California License Plate Lookup
California license plate lookup is a service that helps in the unlocking of a vehicle history using the California license plate. The main benefit of this tool is to assist used car shoppers to investigate and verify all important vehicle records without hassle. By providing the California license plate number, individuals can quickly access any vehicle information and confidently make a sound decision about the purchase of a used vehicle.
What is the Importance of California License Plate Lookup
As the used market keeps booming, there is an increasing concern about the misfortune that comes with buying a used vehicle that we know little or nothing about its past. These include the possibility of buying flood-damaged cars, stolen cars, total loss cars, and lien-bound cars. This concern can be dealt with by running a license plate lookup California to have an insight into the past of the car before purchase.
The Types of License Plates in California
Standard plates
Special interest plates
Special plates
Decals and placards plate
The Information You Will Find by License Plate Check
A California license plate check will provide the following information:
Vehicle specification (Year, make, model, engine information)
Vehicle Identification Number (VIN)
Previous owner's details
Title status
Lien records
Open recalls
Theft Records
Actual Odometer Verification
Service and Maintenance History
Accident history
Why is Reverse License Plate Lookup Important in California?
In California, the reversed CA license plate lookup has been helpful to the law enforcement agencies and other finance and insurance-related institutions in the monitoring and controlling of illegal activities associated with automobiles. Insurance companies need to be aware of any loan or lien on a car before issuing an insurance certificate. With a reverse CA license plate lookup, it's also easy to locate a stolen vehicle. The VIN being revealed can provide the past records of a vehicle's e.g. accident, mileage, odometer readings, damages, titles, service and maintenance, recalls etc. Get a license plate lookup California today and be sure of that vehicle.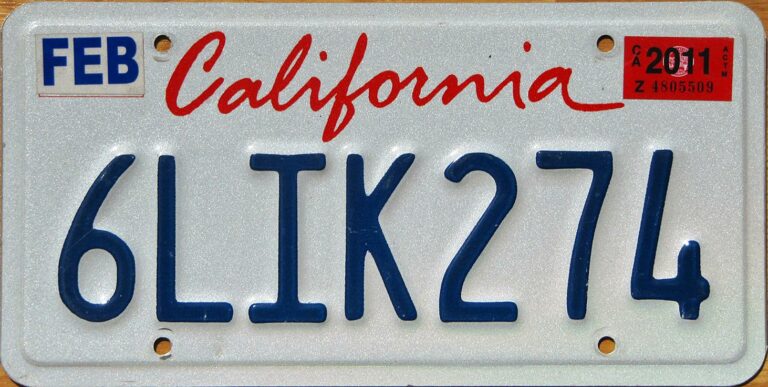 How to Transfer License Plates in California
To transfer license plates in California, get these documents ready and follow the steps:
Obtain and complete a registration application form at a local California DMV Office.
Submit the form with the proof of insurance, ownership, payment, and smog certificate.
The local DMV will issue you a new license plate and registration for the vehicle upon the completion of the transfer process.
How to Register and Transfer Car Title in California
Registering and transferring a Car Title in California requires that you provide the following items:
Proof of insurance in California, the master title, car title transfer fee, and other applicable fees. A smog credential may also be needed.
The two parties (buyer and seller) must complete the ownership transfer form either online or at a local DMV office in California.
Submit the forms with all the necessary items. Wait for a few weeks for the local California DMV to transfer the title.
California is located along the Pacific coast in the Western United States. The State is noted for its numerous beaches and naturally attractive places. It provides a perfect and serene atmosphere to enjoy vacation. The Toyota Camry is the most popular car used in the state.
Frequently Ask Questions (FAQ)
Yes. It's 100% possible to perform a California license plate lookup online, you don't need to visit any local office in California. By using Detailed Vehicle History tool, you can obtain all the information available for a car when it was in use by the previous users. Get a CA license plate lookup California today.
Just like a VIN Check, a license plate lookup can unravel the mystery behind a car's history. By using the Detailed Vehicle History tool, the information is set to reach you within a minute. Access vehicle information like the year, make, model, mileage records, number of previous owner(s), open recall and lien information etc.
With our accurate and quick California plate lookup tool, you can get a California license plate search in seconds.
License Plate By All State In the USA