When it comes to obtaining a detailed vehicle history, a good VIN scanner App is like a holy grail, as it efficiently increases the VIN input speed, saves time, and reduces cost.
A vehicle history report obtained from a good VIN scanner can help you make a good buying or selling decision for any used vehicle.
VIN scanners are developed leveraging Optical Character Recognition (OCR) technology, which is a computer vision technology that enables the computer to decode or understand text contents.
However, there are many factors that affect this technology, these include the quality of the scanner and the OCR engine.
The quality of the output from the scanner which the OCR engine accepts as input will affect the general result or output of the system.
This brings us to the question: what are the top VIN scanning app technologies now available?. In this article, we are bringing to you the top VIN scanning apps.
The top 7 VIN scanner Apps
When it comes to VIN decoding and vehicle history reports, there are several apps that offer these services but only a few have been able to implement the VIN scanning technology. 
Below is a list of them: 
The VIN Decoder & Vehicle History App by Vehicle Databases, Inc
"The VIN decoder & Vehicle History" app from Vehicle Databases Inc was developed with an industry-standard OCR engine and scanning system, making the app stand confidently at the apex of professionalism in terms of VIN scanning, decoding, and vehicle history report services.
It offers the fastest and most efficient method for decoding VINs, it is a unique application that makes offline VIN decoding possible.
Users of this app can easily decode VIN and access detailed vehicle history reports for all used vehicles! Amazing right?
After scanning and decoding a VIN, by tapping on "check records", users can easily access detailed information about the vehicle which includes, but is not limited to, accident history, mileage history, theft records, auction history and photos, loan and lien checks, damages, maintenance history, and open recalls.
The report provided by this app is cheaper and more detailed than the Carfax report, hence proving to be a better alternative to Carfax. 
Pros

Cons

It is yet to support barcode scanning

it is yet to provide support for classic vehicles

It is relatively new and has less than 1000 downloads, as at the time of writing this article.

Ability to store decoded data

Auction information with images

Scans both VIN and License plates

Suggests correct VIN after an incorrect entry

Provides detailed vehicle history report
Epic VIN helps used car buyers avoid the pitfalls associated with used cars, car buyers need to buy blindly anymore, as they have the opportunity to check the vehicle history with Epic  VIN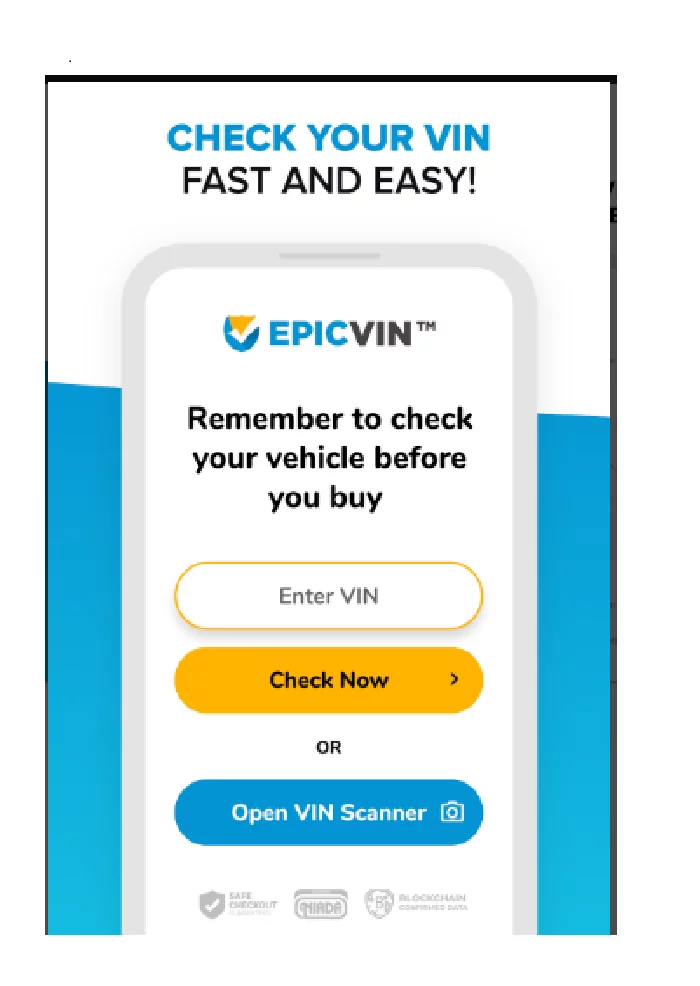 Pros

Cons

Supports manual entry of VIN

Does not support offline VIN decoding

Provides classified information

Auction information included

Good reviews on Trustpilot

Good reviews on Trustpilot
VIN info and Decoder from VIN01 Apps
VINI01 built this VIN scanner app to decode and lay bare the various components of the VIN, the major information contained by the VIN includes, the manufacturer, the year of production, the plant engine type, and model. 
The app can also use the VIN to provide theft information, list damages done to the car, and the modifications done to the car.
With the help of the VIN01 app, you can get the above-listed information online and confirm vehicle validity. 
| Pros | Cons |
| --- | --- |
| | Does not support offline VIN decoding |
| Provides a list of damages done to a car | |
| Supports modern manufacturers | |
| | |
VIN decoder App by Toysoft Inc
The VIN decoder from Toysoft Inc provides its users an option to either enter the VIN manually or scan the VIN. 
The app, like other apps listed, is free to download and offers a free VIN decoding service, supports VIN decoding and manufacturers from North America, Europe, Asia, and some other countries in the provision of detailed VIN information.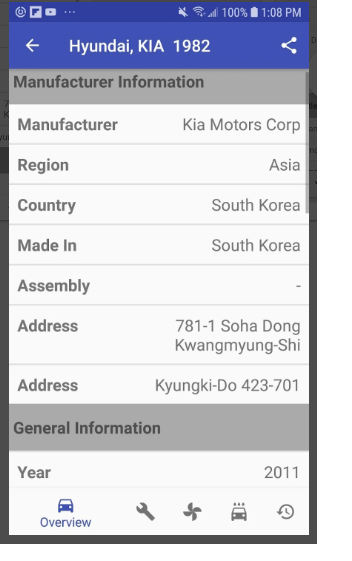 | Pros | Cons |
| --- | --- |
| | Does not support offline VIN decoding |
| | |
| Supports North America, Europe, Asia, and other countries. | |
| Provides detailed manufacturer information | |
| The report could be downloaded as a pdf | |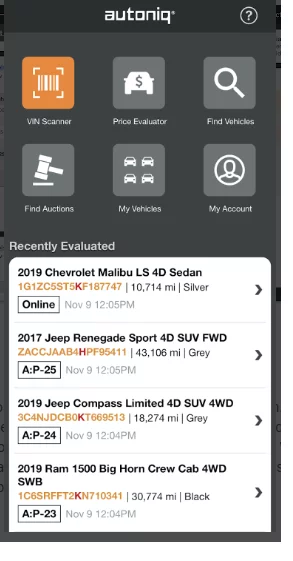 The VIN scanner is an application from Autoniq, it provides vehicle pricing and evaluation information built for automotive professionals.
The app is built to integrate into auction inventory and vehicle history providers, it can scan a VIN, fast and accurately.
| Pros | Cons |
| --- | --- |
| Supports barcode scanning | |
| | |
| | Bad reviews on Play Store |
| | |
The Carbly VIN scanner app is designed to help users make appraise vehicles,  Ambient Automotive, Inc. partnered with Black Book®, Manheim Market Report, Kelley Blue Book®, CARFAX™, and J.D. Power Values (formerly NADA Official Used Car Guide®) to bring about the Carbly VIN scanner app. 
The app just like other VIN scanner apps has eliminated errors associated with manual VIN entry.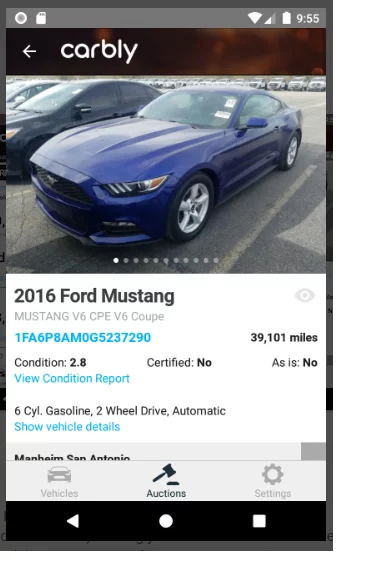 | Pros | Table Header |
| --- | --- |
| Data sourced from trusted sources | State-issued dealer license is required to use the app |
| Provides information on nearby vehicles for sale | |
| Provides the Carfax vehicle history report | |
| Provides access to auction records | |
Auto VIN Decode Pro from OBD high-tech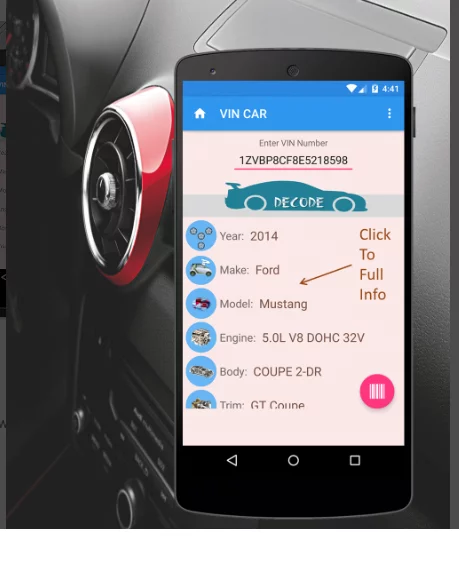 This app has a VIN barcode scanner that helps users to obtain VINs in the fastest possible manner.
It also provides VIN decoding services and currently supports over 77 manufacturers. With year range of 1980-2017,
| Pros | Cons |
| --- | --- |
| Supports barcode scanning | |
| | Does not support offline VIN decoding |
| Provides support for a wide range of manufacturers | |
| | |
However, they are other apps such as the CarVertical app which do not have a scanner but provide similar services as the above-mentioned apps.