VIN Check in Nigeria: A Guide for
Used Car Buyers
Buying a used car can be a smart and economical decision, but it also comes with some risks. How can you be sure that the car you are interested in is not stolen, damaged, or has a hidden history?
This is where a VIN check, also known as a VIN number check or chassis number check, comes in handy. A VIN check is a process of verifying the identity and history of a vehicle using its unique Vehicle Identification Number (VIN).
A VIN is a 17-digit alphanumeric code that is assigned to every vehicle manufactured since 1981. It contains information about the vehicle's make, model, year, engine, body style, and other specifications. You can find the VIN on the dashboard, the driver's side door jamb, the engine block, or the registration documents of the vehicle.
A VIN check can help you learn more about the vehicle's past and present condition, such as: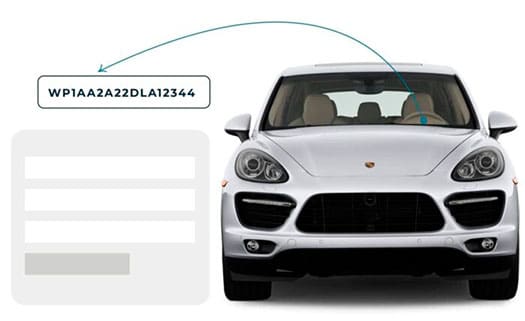 A VIN check can reveal if the vehicle has been involved in any collisions, floods, fires, or other incidents that may have caused damage or affected its performance.

A VIN check can show if the vehicle has a clear or branded title. A branded title means that the vehicle has been declared a total loss, salvage, rebuilt, or junk by an insurance company or a state agency. This can indicate that the vehicle has serious problems or defects that may not be visible or disclosed by the seller.

A VIN check can tell you how many owners the vehicle has had, how long they owned it, and where they registered it. This can help you determine if the vehicle has been well-maintained, driven frequently, or used for commercial purposes.

A VIN check can provide you with records of the vehicle's maintenance and repair activities, such as oil changes, tire rotations, brake inspections, and recalls. This can help you assess the vehicle's reliability and safety.

A VIN check can alert you if the vehicle has been reported stolen or recovered by law enforcement agencies. This can help you avoid buying a stolen vehicle that may be confiscated or have legal issues.

A VIN check can inform you if the vehicle is still covered by the manufacturer's warranty or an extended warranty. This can help you save money on repairs and enjoy peace of mind.
Review all your VIN checks, window stickers lookup from your own Dashboard. Discover more benefits.  If you have any comment or requirement  book a demo with us!
Advantages of VIN Decoding in
Nigeria
VIN decoding is a process of extracting and interpreting the information contained in the VIN. It can help you identify the exact specifications of the vehicle, such as:

The engine type refers to the size, configuration, and power output of the engine. It can affect the vehicle's performance, fuel efficiency, and emissions. For example, a V6 engine has six cylinders arranged in a V shape and produces more power than a four-cylinder engine.

The transmission type refers to the system that transfers power from the engine to the wheels. It can affect the vehicle's speed, acceleration, and handling. For example, an automatic transmission shifts gears automatically without requiring manual input from the driver.

The drivetrain type refers to the system that delivers power to the wheels. It can affect the vehicle's traction, stability, and off-road capability. For example, a four-wheel drive (4WD) system distributes power to all four wheels and provides better grip on slippery or uneven surfaces.

The body style refers to the shape and design of the vehicle's exterior. It can affect the vehicle's aerodynamics, cargo space, passenger capacity, and visibility. For example, a sedan is a four-door car with a separate trunk and a roofline that slopes gently to the rear.

Trim level: The trim level refers to the variant of a specific model that offers different features and options. It can affect the vehicle's comfort, convenience, and appearance. For example, a base trim level may have standard equipment such as air conditioning and power windows, while a premium trim level may have additional features such as leather seats and sunroof.
VIN decoding can help you compare different vehicles based on their specifications and find the one that suits your needs and preferences. It can also help you avoid buying a vehicle that has been altered or misrepresented by the seller.
Exploring Key Used Vehicle Purchase Statistics in
Nigeria
When navigating the intricate world of used car buying, understanding the broader trends and statistics can prove to be an invaluable compass. In this section we delve into a comprehensive analysis of significant data points that shed light on the dynamics of used vehicle acquisitions across various countries. Whether you're a savvy buyer looking for insights or a curious enthusiast seeking to grasp the global automotive landscape, these statistics offer a holistic view of the factors that shape the pre-owned car market.
Join us as we explore the numbers that define the choices, preferences, and trends that govern used vehicle purchases in Nigeria.
Passenger cars constituted the largest export dollar value from the United States to Nigeria in 2021
Nigeria imported around 239 thousand used vehicles in 2018
which was the highest number among selected African countries.
The launch of the Automotive Industry Development Plan (NAIDP) in 2014 attracted the interest of leading international carmakers
and led to the resumption of small-scale vehicle assembly in the country
There were a total of 11.8 million vehicles in Nigeria in 2018.
Of this number, 39% (4.6 million) were privately owned, 56% (6.7 million) were commercial vehicles, 1.1% (135,000) were government vehicles, and 0.4% (5,834) were owned by diplomats.
According to the director of the National Automotive Design and Development Council (NADDC), the goal is that by 2025, 30% of passenger cars driven in the country will be electric powered
The global premium-car segment will fare better than the broader market in Nigeria, thanks to electric vehicles and resurging demand in China
The Nigerian automotive market is expected to grow at a compound annual growth rate (CAGR) of 6.2% from 2021 to 2026
Under a new tax law that will go into effect on June 1, 2023, imported vehicles with engines ranging in size from 2000cc (2 liters) to 3999cc (3.9 liters) will be subject to an additional tax known as Import Adjustment Tax (IAT),
which is levied at a rate of 2 per cent of the vehicle's value
The demand for used vehicles in Nigeria is driven by factors such as affordability, availability, and ease of maintenance
The most popular brands of used vehicles in Nigeria are Toyota, Honda, Nissan, Hyundai, and Kia
What our customers are
saying Ejike
Saudi Arabia
Remarkable experience Because of the extensive amount of data that DetailedVehicleHistory offers, no aspect of a vehicle's history is missed. The reports are stuffed with of specific data, such as service logs, mileage measurements, and ownership histories. I felt secure making educated decisions because their database was pretty up to date. DVH stood up as a standout company in my hunt for a dependable supplier of vehicle history records, offering accurate and comprehensive data, an easy-to-use user interface, and exceptional customer service. They are committed to providing correct information and reasonable costs, which will be quite helpful for anybody shopping for a used automobile. I heartily recommend DetailedVehicleHistory to any potential car buyers looking for confidence and peace of mind in their purchasing decisions.

Chance Snyder
US
Great service to use when buying a used car! This website was recommended by several different articles, so I gave it a try while my wife and I searched for a used car. The reports are less expensive than Carfax, but far superior to other options I have tried. The information provided is everything you would want to know. I have avoided several bad purchases because of this service!

Sikandar Khan
Oman
Mr. Ben is extremely professional, disciplined and caring. His quick response to my report delivery and engaging me to the last satisfaction is really appreciable and shows that he is real asset to this company... All the process is highly trusty and safe... The information provided is also true and based on reality...

Sheref Nasser
Canada
I was asked by a buyer to get a window… I was asked by a buyer to get a window sticker for my car. I tried to do this sticker on many websites, but I couldn't. Thanks to the informative customer service Richard, I was able to obtain the sticker in no time. It was an excellent experience.

Adeshina Olalekan
Nigeria
Allow trustpilot guide you right to your dream car! My experience with this app was awesome,easy to use platform provide almost every detail you need before purchasing your desired vehicle. To add if not for this app I would have took a wrong decision purchasing an accidental vehicle! Wow Customer service! I can go on on and on......because of my experience I had to purchase extra 10 credits for future use.

Jose Calderon
Costa Rica
I am impressed by the great customer… I am impressed by the great customer service I've received from the guys at detailedvehiclehistory.com They not only provided me with the information that I was looking for, but also added much more valuable data. On top of that, I was contacted right away in my native language -Spanish- just to verify if I was satisfied with the experience. I wish every site had such a sense of quality for the customers. Highly recommended *****
Explore and Check
VINs from Worldwide