Montana VIN Check and Lookup
Cars are huge investments for buyers, and no one wants to see their investments go to waste. This is why a Montana VIN check and lookup is highly recommended. With a VIN check and lookup tool provided by Detailed Vehicle History, you can easily verify a vehicle's performance and overall reliability.
Why Should You Run a VIN Check In Montana?
A VIN check is one of the most reliable methods to verify a vehicle's overall condition. With a vehicle history check, car buyers can gain access to a vehicle's specifications and records, with which they can make the best decisions and avoid defective vehicles.
Some of the benefits of running a VIN check in Montana include:
Instant access to vehicle information: With a Montana VIN check tool, you can gain instant access to vehicle information that may not be provided by dealers during the car-buying process. Compared to a manual VIN search, a VIN check takes less time to provide important vehicle information to vehicle buyers. This way, consumers are provided with vast amounts of information, and the time needed to seal a deal is reduced.
Confirm a vehicle's title status: A vehicle with a "clean title" is one without any records of severe accidents or damaged vehicle parts that are threats to safety. It is recommended to purchase a vehicle with a clean title as opposed to others with salvage or rebuilt titles, especially if you are a first-time car buyer. To confirm your vehicle's title status, you can simply run a Montana VIN lookup.
Easily identify safety issues: Want to be informed of your vehicle's open recalls and recall history? Your best bet would be to generate a vehicle history report with the VIN check tool provided by Detailed Vehicle History. With a Montana VIN check, you may easily identify open recalls and have your vehicle fixed as soon as recommended by the manufacturer.
Information Provided by a Montana VIN Lookup
If you are a car owner seeking to learn about your vehicle's parts and specifications, or a car buyer at a used car dealership searching for a reliable vehicle, a VIN check would point you in the right direction and help you make informed decisions. The information provided by a Montana VIN lookup includes:
Damage history: With a VIN lookup, you may access your vehicle's damage history before purchase at any used car dealership or private sale. With the generated vehicle history report, you can determine the number of severe accidents your vehicle has been in and also identify the severity of damages sustained.
Service history: A good look at a vehicle's service and maintenance history is one way to determine how reliable the vehicle may be. A vehicle's service and maintenance history provided by a Montana VIN check shows how well the vehicle was cared for and maintained.
Auction history: The Detailed Vehicle History's Montana VIN check tool provides the sales and auction history of vehicles to customers with access to more than 10 high-resolution images.
The VIN check tool also provides accurate vehicle specifications, title records, lien and loan records, theft records, ownership history, accurate odometer records, and more.




Best times to buy and sell
Can I Lookup My Vehicle Specs By VIN Search In Montana?
If you are interested in a used car in Montana, it's best to get the vehicle's specifications to get an idea of the vehicle's performance and overall reliability before committing to a purchase. The vehicle specifications of a vehicle can be easily decoded from its Vehicle Identification Number through a VIN search. With a VIN check tool, you can gain access to the following information:
Year
Make
Model
Trim
Full engine specifications
Manufacture information
Transmission
Vehicle type
Braking systems, and more.
These are some of the vehicle specs made available to car buyers, owners, and sellers via a VIN search with the Montana VIN lookup tool provided by Detailed Vehicle History.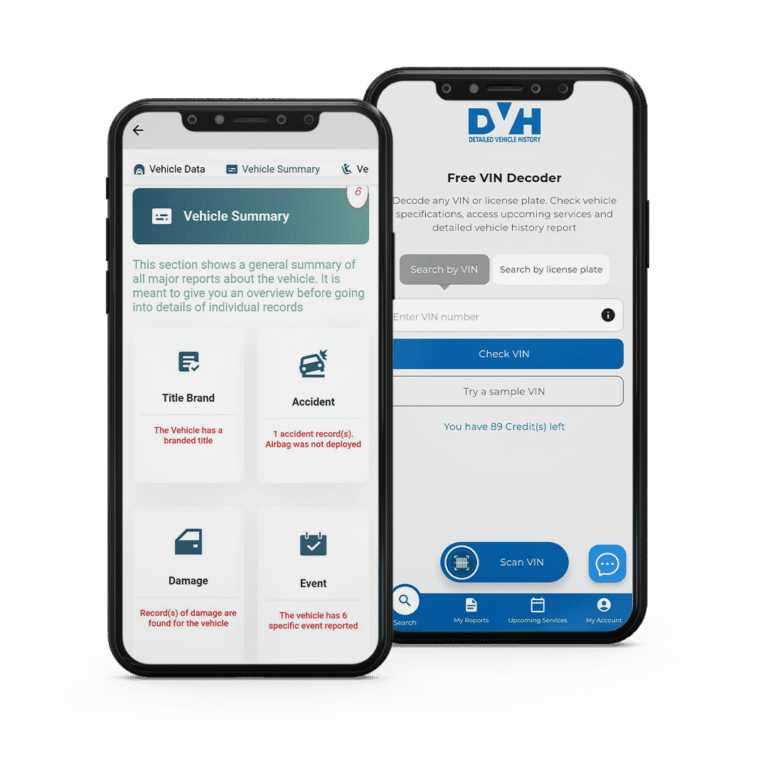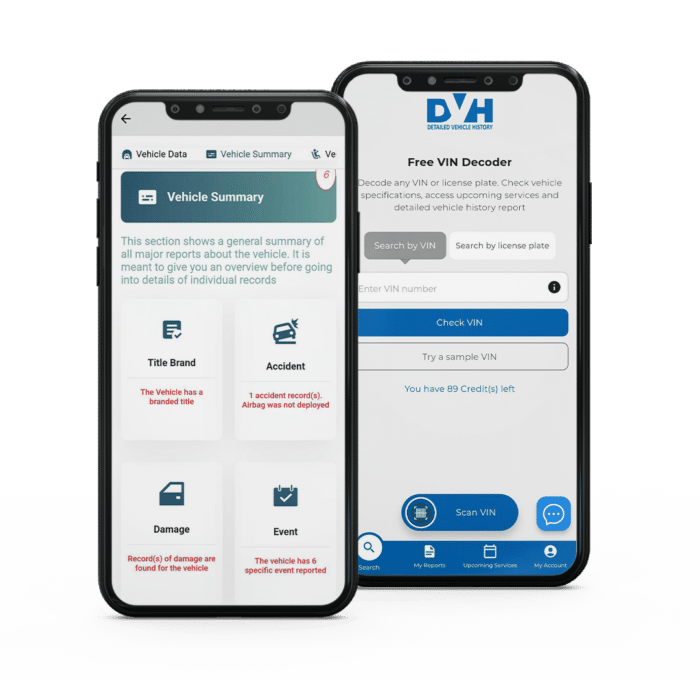 Download the VIN Decoder & Vehicle History App, run VIN checks, Auction Checks, Check upcoming maintenance for your vehicle free! anywhere any time.
Scan, decode VINs, (online and offline) and license plates to check vehicle specifications and access vehicle history reports instantly.
How Do I Check a VIN Number in Montana?
Detailed Vehicle History provides an easy-to-use VIN check tool for car buyers and sellers. To check a VIN number in Montana, all you need to do is follow these steps: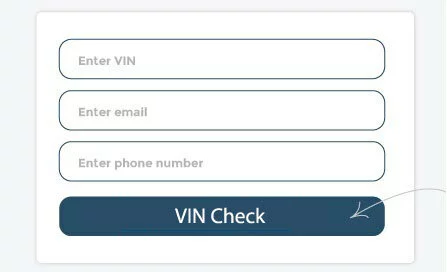 Visit detailedvehiclehistory.com: Go to the website and select "VIN Check" from the drop-down menu
Enter the required details: Enter the VIN number of the car you want to check.
Review the report: Once the report is generated, review it to see the detailed history of the car, including information on accidents, thefts, ownership history, and more.
VIN Lookup By License Plate In Montana
A license plate lookup is the process of verifying a vehicle's documents and information with the vehicle's registered plate number. With the VIN Check tool provided by Detailed Vehicle History, car buyers, owners, or sellers can easily determine their vehicle histories with their Montana registered plate numbers.
A license plate VIN lookup provides all information that can be accessed with a VIN number and serves as an alternative whenever a car owner, buyer, or seller cannot immediately provide their Vehicle Identification Number (VIN).
Other Resources for Montana Car Owners and Drivers
Montana, a state known for its beautiful landscapes and outdoor recreation, has a population of just over one million people. Car owners and drivers in Montana should be aware of the state's specific rules and regulations to ensure they stay in compliance with the law and maintain adequate auto insurance coverage. Here are some resources and information for Montana car owners and drivers: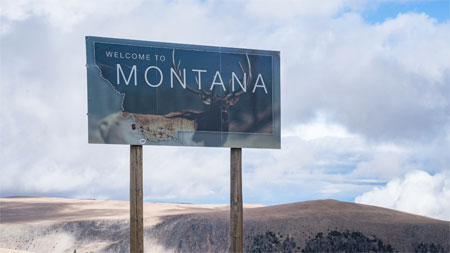 Montana Department of Justice – Motor Vehicle Division (MVD): The MVD is responsible for vehicle registrations, driver's licenses, and other related services. You can visit their website (https://dojmt.gov/driving/) for information on various services and resources, including online services, forms, and manuals.
Vehicle Registration: In Montana, vehicles must be registered within 60 days of becoming a resident or purchasing a vehicle. New residents must obtain a Montana driver's license and register their vehicle at the same time. You can find more information about vehicle registration, including fees and required documents, on the MVD website.
Driver's License and Identification Cards: Montana requires its residents to have a valid driver's license or identification card. You can find information about obtaining or renewing a driver's license, as well as the state's Graduated Driver Licensing (GDL) program for new drivers, on the MVD website.
Traffic Laws and Regulations: It's essential to be familiar with Montana's traffic laws and regulations to ensure safe and responsible driving. You can find the Montana Driver Manual on the MVD website, which covers traffic laws, road signs, and safe driving practices. Remember that Montana has specific rules for using electronic devices while driving and seat belt usage.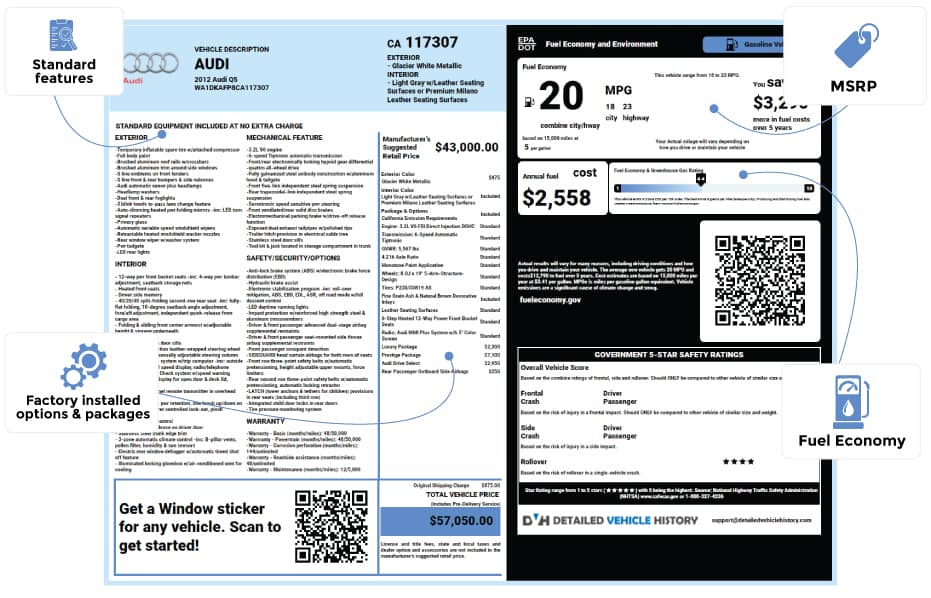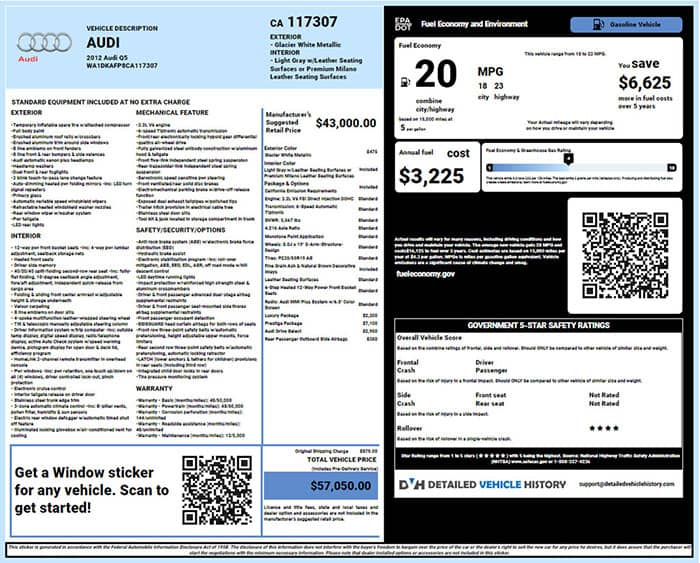 A window sticker is a piece of documentation usually affixed on a car's window that offers a glance exposition of the special features of a particular vehicle.
It usually sheds more light on MSRP, standard and optional equipment, additional packages, fuel economy rating, and more.
Frequently Asked Question (FAQs)