Oklahoma VIN Check and Lookup
Are you in need of an Oklahoma VIN check and lookup? Be aware that it is recommended for car buyers to carry out a proper VIN check on the vehicles they are interested in to verify the vehicle's overall condition and reliability before purchase. With the VIN check tool designed to accurately check Oklahoma VINs, you can be sure you are making a good choice and purchasing a reliable vehicle at any dealership or private seller.
Why Should You Run a VIN Check In Oklahoma?
A VIN check is the easiest way to determine a vehicle's performance and reliability. When you run a VIN check in Oklahoma, you will be provided with enough information to make the best decision and purchase reliable vehicles. Some of the benefits of running a VIN check in Oklahoma include:
Accurate and real-time market value insights:
With the real-time market value insights provided after a VIN check, car buyers can have better negotiations and purchase their desired vehicles at really affordable prices.
Verification of vehicle reliability: No one wants to purchase a damaged vehicle. With the records and specifications provided after an Oklahoma VIN check, car buyers can make informed decisions and purchase nothing less than reliable vehicles.
Identification of safety issues: There are some vehicles put up for sale with open recalls that may present the vehicle as a safety threat to drivers and other road users. With an Oklahoma VIN check, car buyers can identify open recalls and have them fixed before purchase.
Information Provided by an Oklahoma VIN Lookup
The information provided in a vehicle history report for car drivers, sellers, and owners after an Oklahoma VIN lookup includes:




Best times to buy and sell
How Do You Check If a Car is Stolen in Oklahoma?
A vehicle that was reported stolen will have theft records in government databases that can be easily accessed with a VIN check tool. With the VIN check tool, you can easily gain full access to the records available on the vehicle you are interested in. If your vehicle has a theft record, this will be vividly shown on the vehicle history report generated by the Detailed Vehicle History VIN Check tool. With the ownership history of a vehicle, you may also be able to tell if your vehicle may be a stolen vehicle. Take a close look at your vehicle's ownership history and compare it with the information provided by the seller. If there are no similarities, you can suspect that you have a stolen car on your hands.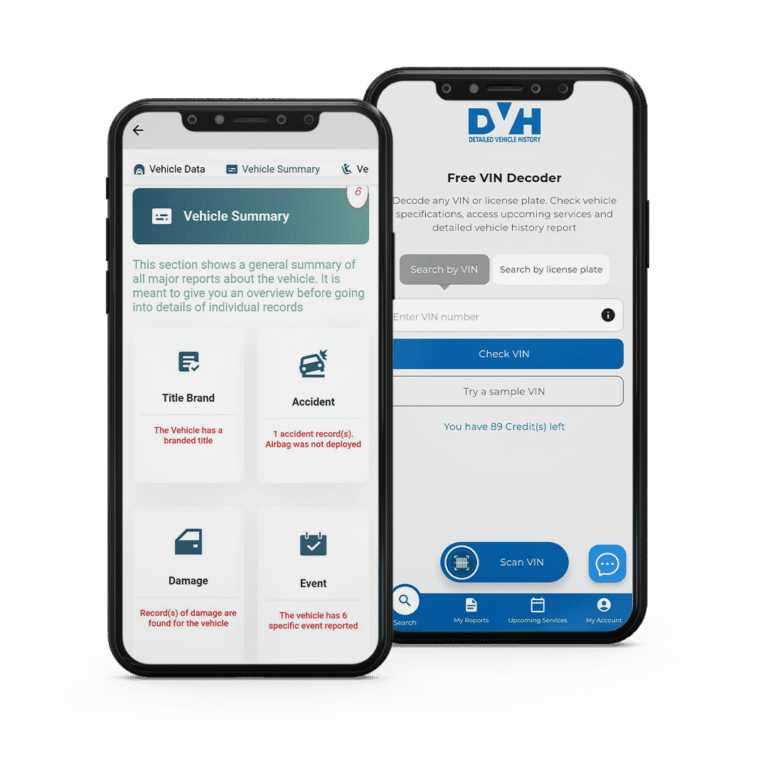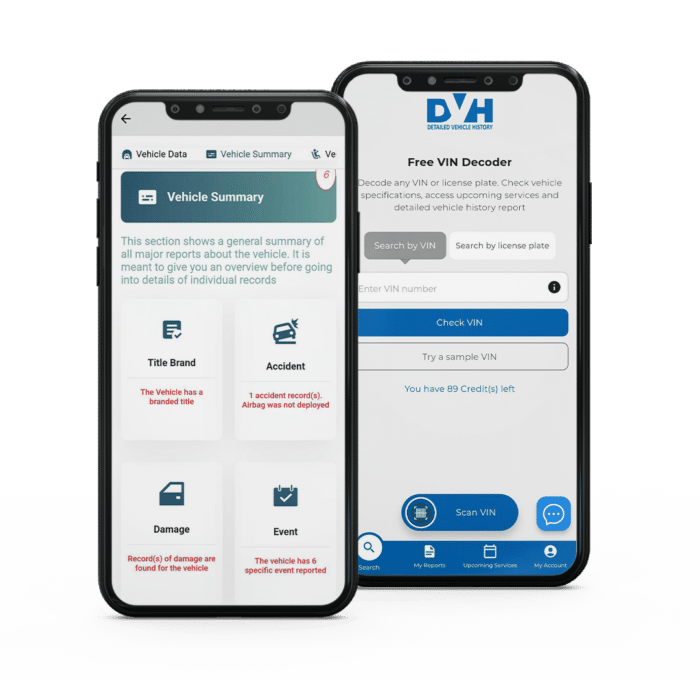 Download the VIN Decoder & Vehicle History App, run VIN checks, Auction Checks, Check upcoming maintenance for your vehicle free! anywhere any time.
Scan, decode VINs, (online and offline) and license plates to check vehicle specifications and access vehicle history reports instantly.
How Do I Check a VIN Number in Oklahoma?
Detailed Vehicle History provides vehicle information to car buyers, sellers, and owners with 100% accuracy at extremely affordable prices compared to other vehicle history report providers. To check a VIN number in Oklahoma and generate a concise and detailed vehicle history report, you would have to follow these steps: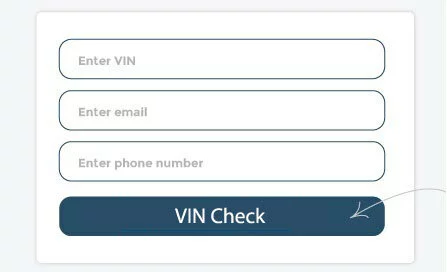 Visit detailedvehiclehistory.com: Go to the website and select "VIN Check" from the drop-down menu
Enter the required details: Enter the VIN number of the car you want to check.
Review the report: Once the report is generated, review it to see the detailed history of the car, including information on accidents, thefts, ownership history, and more.
VIN Lookup By License Plate In Oklahoma
If you would like to run a license plate lookup, then you can easily get it done with the license plate lookup tool. This tool receives a license plate number and seamlessly decodes it, providing valuable information to vehicle owners. Some of the details provided after a license plate lookup include:
Accident records
Damage records
Service history

Maintenance history
Ownership history, and more
Other Resources for Oklahoma Car Owners and Drivers
Here are some tips for Oklahoma car owners and drivers that could increase road safety and make their vehicles last longer:
Know the traffic laws: Be familiar with Oklahoma's traffic laws, including speed limits, right-of-way rules, and DUI laws. Ignorance of the law is not a defense, so make sure you understand the rules of the road.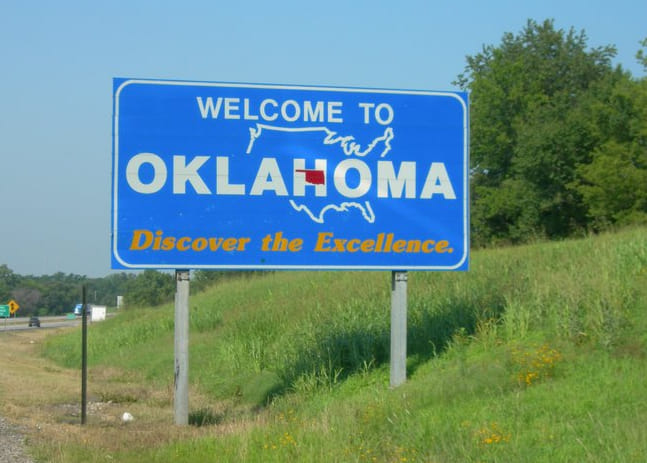 Drive defensively: Unfortunately, accidents can happen even if you are a safe and responsible driver. Always drive defensively, anticipate the actions of other drivers, and be prepared to react quickly if necessary.
Stay focused on the road: Distracted driving is a leading cause of accidents, and it's especially dangerous in Oklahoma's severe weather conditions. Avoid using your phone while driving, and always keep your eyes on the road.
Keep your seatbelts on: Oklahoma law requires all drivers and passengers to wear seat belts. Buckling up can help protect you in the event of an accident, so always make sure you and your passengers are properly restrained.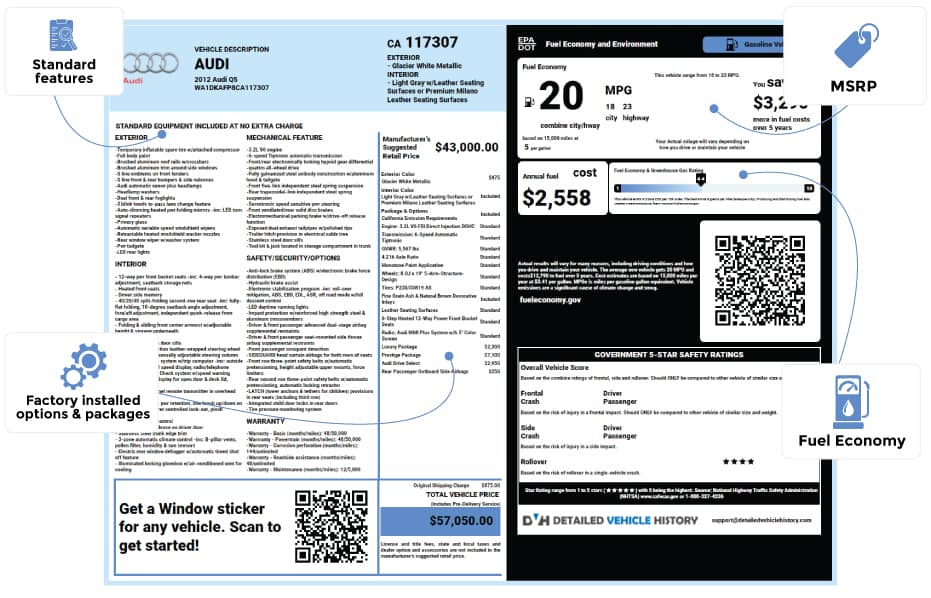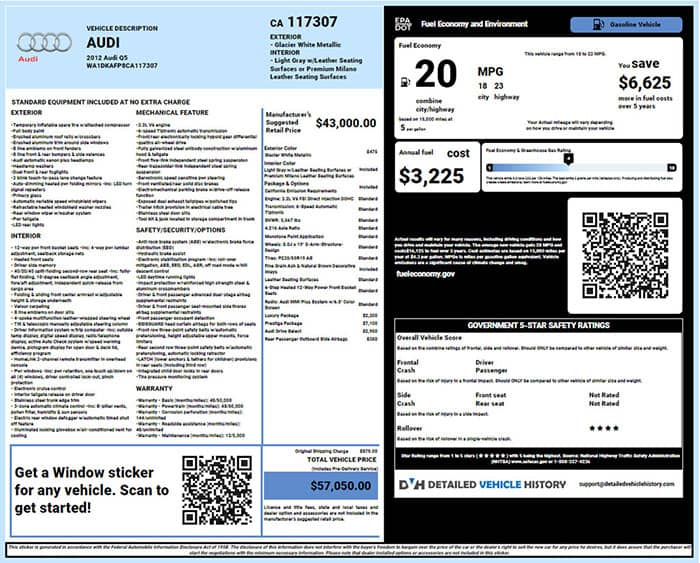 A window sticker is a piece of documentation usually affixed on a car's window that offers a glance exposition of the special features of a particular vehicle.
It usually sheds more light on MSRP, standard and optional equipment, additional packages, fuel economy rating, and more.
Frequently Asked Question (FAQs)
With a vehicle history report from Detailed Vehicle History, you can easily trace the owner of a vehicle. The information provided in a vehicle history report generated by the Oklahoma VIN check tool usually contains information on the ownership history. With this, you can know how many owners a vehicle has had, the amount of time it spent with each owner, and what states the vehicle has been in.
No, you cannot sell a car in Oklahoma without a title. Simply put, the title serves as proof of ownership; without it, you cannot transfer ownership of the vehicle you want to sell. If you misplaced the title, it's best to visit the Oklahoma MVD and pick up any application form for a duplicate Oklahoma vehicle title.
In Oklahoma, a "black title" refers to a vehicle title that has been branded as "salvage." A salvage-title vehicle is one that has been damaged to the extent that it has been declared a total loss by an insurance company, or the cost of repairs exceeds the value of the vehicle. To determine if you have a black title on your vehicle, run a VIN check with our VIN check tool to make the best decisions.