New Jersey VIN Check and Lookup
No matter where you are located, whether in New Jersey or anywhere around the globe, a VIN check is a crucial tool to use when considering a used car purchase. It supplies vital information regarding a vehicle's history, such as accident reports, ownership records, mileage, and more. Our secure New Jersey VIN lookup tool not only helps to prevent fraudulent transactions but also offers peace of mind to used car buyers.
Why Should You Run a VIN Check In New Jersey?
Running a VIN check in New Jersey is a crucial step to take when buying a used car. Here are some reasons why:
Obtain accurate vehicle history: A VIN check provides accurate information about a vehicle's history, including its previous ownership, accident history, mileage, and more. This information can help you determine the vehicle's condition, and whether it is worth the asking price.
Spot Red Flags: A VIN check can reveal any potential red flags or warning signs, such as salvage titles, flood damage, or odometer rollback. These issues may not be apparent during a visual inspection or test drive, but a VIN check can help you identify them and avoid buying a problematic vehicle.
Negotiate a better price: Armed with information from a VIN check report, you can negotiate a better price for the vehicle. If the report reveals any issues or discrepancies, you can use this information to negotiate a lower price, or even walk away from the deal if necessary.
Prevent fraud: A VIN check can help prevent fraud by verifying the vehicle's identity and history. It can reveal if the vehicle has been stolen or if the VIN has been tampered with, which are both red flags that could indicate a fraudulent transaction.
To use the information in a VIN check report to negotiate a better price, identify any issues or discrepancies, and discuss them with the seller. If the seller is unwilling to negotiate or address the issues, consider walking away from the deal.
To spot red flags, look for any discrepancies or inconsistencies in the vehicle's history, such as a significant difference between the reported mileage and the odometer reading. Also, look out for any signs of damage or repair work, such as paint overspray or mismatched body panels.
To avoid common scams and frauds, be wary of deals that seem too good to be true, or of sellers who are reluctant to provide a VIN check report. Always verify the vehicle's identity and history before making a purchase, and never give payment until you have inspected and test-driven the vehicle.
Information Provided by a New Jersey VIN Lookup
In New Jersey, conducting a VIN check can grant you access to a vast array of information regarding the vehicle you intend to purchase. This encompasses details concerning the car's brand history, title information, recall information, odometer reading, previous owners, repair and service history, loan and lien information, theft records, and flood, fire, and hail damage information, among other things.
Our service is rooted in precision and transparency, and we make every effort to ensure that the information contained in our reports is up-to-date and accurate. We achieve this by relying on reliable sources to compile our reports. Furthermore, we strive to make our reports easily accessible and understandable, even for those with limited automotive knowledge.
One distinctive aspect of our service is that we offer auction and sales history data that may not be readily available through other providers. Moreover, our pricing is exceedingly competitive, making our service a cost-effective alternative to our competitors. For example, while a Carfax report costs $39.99, ours is just $14.99!




Best times to buy and sell
How to Check a Vehicle Title in New Jersey?
Our VIN check tool presents a distinctive chance to retrieve an extensive history of any vehicle in New Jersey. Specifically, you may use this tool to examine the title information of any vehicle that has piqued your interest.
To accomplish this, you need to compare the title segment of the vehicle history report, which our tool provides. This will enable you to identify any warning signs related to the title, such as a salvage title, flood title, or other significant title brands that might render the vehicle a risky investment.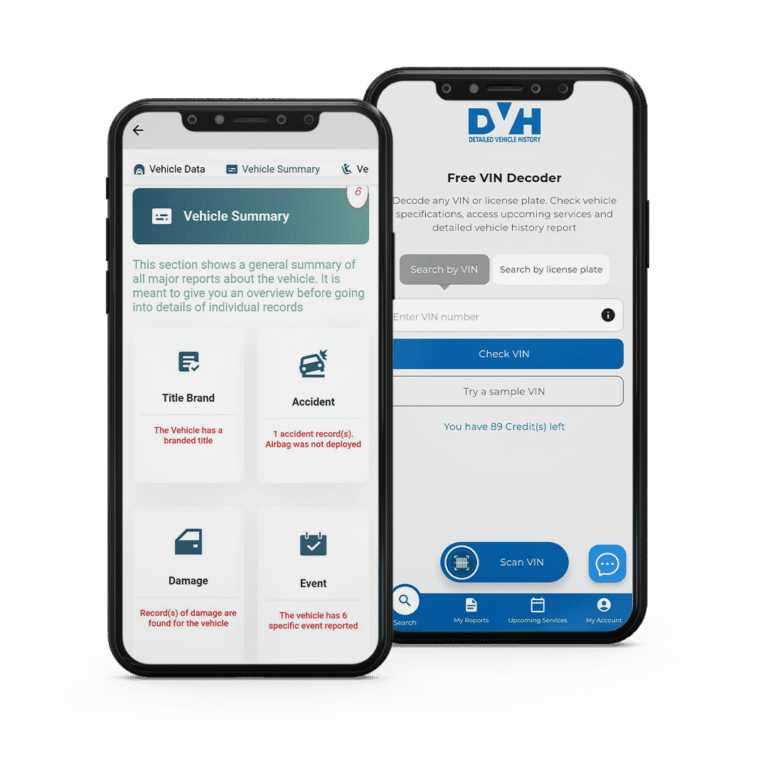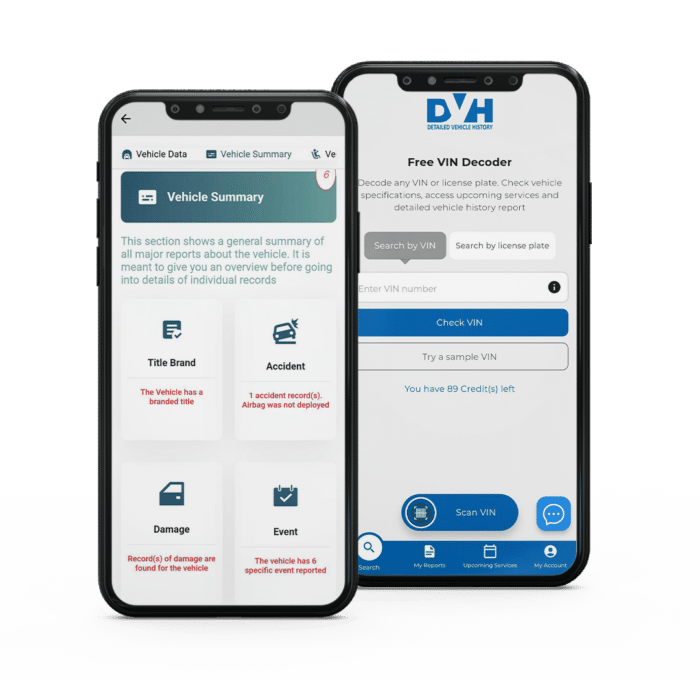 Download the VIN Decoder & Vehicle History App, run VIN checks, Auction Checks, Check upcoming maintenance for your vehicle free! anywhere any time.
Scan, decode VINs, (online and offline) and license plates to check vehicle specifications and access vehicle history reports instantly.
How Do I Check a VIN Number in New Jersey?
To perform a VIN check with our tool for New Jersey, follow these simple steps: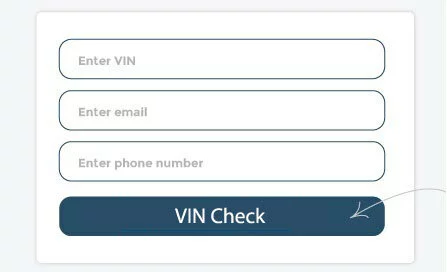 Visit detailedvehiclehistory.com: Go to the website and select "VIN Check" from the drop-down menu
Enter the required details: Enter the VIN number of the car you want to check.
Review the report: Once the report is generated, review it to see the detailed history of the car, including information on accidents, thefts, ownership history, and more.
VIN Lookup By License Plate In New Jersey
You can obtain some information about a vehicle, such as its make, model, and year, by performing a license plate lookup. This can be helpful when you need to identify a vehicle or verify its ownership, you can do this using our New Jersey license plate lookup tool.
The New Jersey license plate lookup tool provides the same information as the VIN check tool, both tools have the capability to generate a detailed vehicle history report for all vehicles used in New Jersey.
Other Resources for New Jersey Car Owners and Drivers
New Jersey is a densely populated state, with approximately 9 million residents. As a result, traffic can be quite congested, particularly during peak hours in cities such as Newark, Jersey City, and Trenton. Additionally, New Jersey has specific regulations for car owners and drivers that may differ from other states.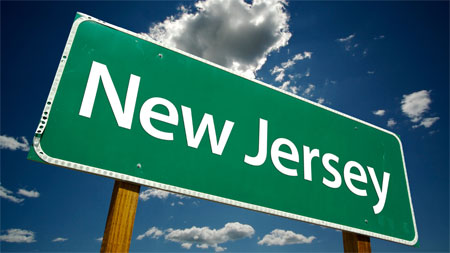 For instance, New Jersey law requires all drivers to carry minimum liability insurance coverage of at least $15,000 for injury or death to one person, $30,000 for injury or death to more than one person, and $5,000 for property damage. Failure to carry this insurance coverage may result in penalties such as fines, license suspension, or even imprisonment.
Furthermore, New Jersey has a Graduated Driver's License (GDL) program designed to help young drivers gain experience and skills gradually. The GDL program includes specific requirements such as supervised driving hours, restrictions on driving times, and a provisional license phase before obtaining a full license.
New Jersey also requires all registered vehicles to undergo an annual safety inspection and emissions test, which must be completed by a licensed inspection facility. Failure to comply with this regulation may result in fines or vehicle impoundment.
In addition to these regulations, New Jersey offers various resources for car owners and drivers, including the New Jersey Motor Vehicle Commission, which oversees driver licensing and vehicle registration, and the New Jersey Department of Transportation, which provides information on road construction and traffic updates.
Additionally, the New Jersey Division of Consumer Affairs offers resources on auto insurance, lemon laws, and vehicle warranties to help consumers make informed decisions when purchasing a vehicle.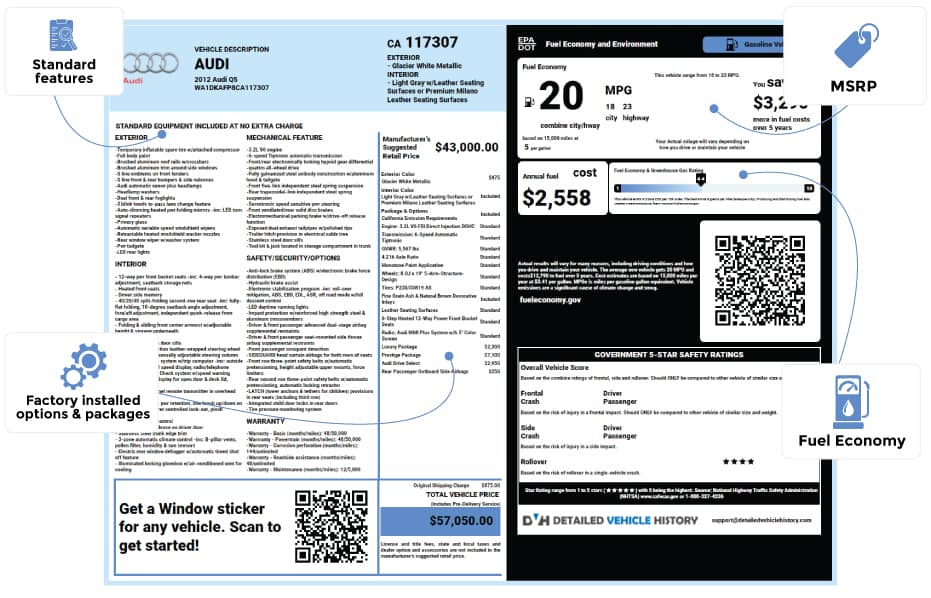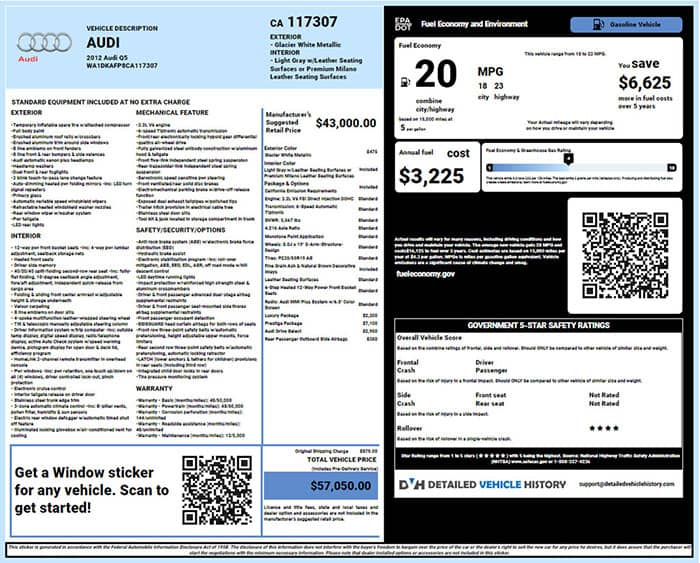 A window sticker is a piece of documentation usually affixed on a car's window that offers a glance exposition of the special features of a particular vehicle.
It usually sheds more light on MSRP, standard and optional equipment, additional packages, fuel economy rating, and more.
Frequently Asked Question (FAQs)
By performing a VIN lookup in New Jersey, you can obtain a detailed vehicle history report, which includes information about the vehicle's previous owners, accidents, repairs, and other important details.
Yes, however Detailed Vehicle History offers an affordable price for VIN checks when compared with other service providers.
If you experience any issues during the VIN check process in New Jersey, you can contact our customer support team for assistance. You can also reach out to the New Jersey Division of Motor Vehicles for further guidance if you are using their services.