Indiana VIN Check and Lookup
An Indiana VIN check is the best way to verify a vehicle's condition and safety in Indiana. The VIN Check tool provided by Detailed Vehicle History can help car buyers and sellers to easily know more about a vehicle's specifications and history. This will help them make informed decisions and avoid any used vehicle-related problems.
Why Should You Run a VIN Check In Indiana?
VIN check Indiana: There are many reasons why a VIN check should be done in Indiana before purchasing a vehicle from a used car dealership. By looking up an Indiana VIN number, a car buyer or seller can verify and obtain accurate vehicle specifications and an overview of their vehicle's history. Some of the reasons to get an Indiana VIN check include:
Verify Theft Status: While vehicle thefts in the city are down 12% in 2023, the Indianapolis Metropolitan Police Department reports that this year has seen a rise in thefts of specific Kia and Hyundai models. To protect yourself from purchasing stolen vehicles in Indiana, it is recommended to run an Indiana VIN check to easily check for any theft records on the vehicle. You can also take a good look at the ownership history of the vehicle you are interested in. This way, you can check if the seller's story matches what's on the record.
Verify Vehicle reliability: One of the most important reasons for a VIN check would be to determine a vehicle's overall condition and reliability. By looking up the VIN, you can accurately predict a vehicle's reliability. You can easily analyze the vehicle's accident and damage history, service and maintenance history, and title records and spot potential mechanical or safety issues that may come up in the future.
Detecting a lien-bound car: To prevent purchasing vehicles that could be claimed by a financing institution in the future and to prevent paying debts you didn't sign up for, it is recommended to run an Indiana VIN check.
Information Provided by a Indiana VIN Lookup
The following information are provided by our Indiana VIN lookup tool:




Best times to buy and sell
Find the owner's details of a vehicle in Indiana By VIN Search.
Knowing the ownership history of a vehicle through an Indiana VIN search can help determine the reliability of a vehicle and avoid potential fraud and scam. The details of the last vehicle owner displayed on a vehicle history report can serve as a means to verify the information provided by the seller. If a vehicle has had several owners in a short period of time, it may have a mechanical or safety defect that these owners couldn't fix and will need serious repairs in the future.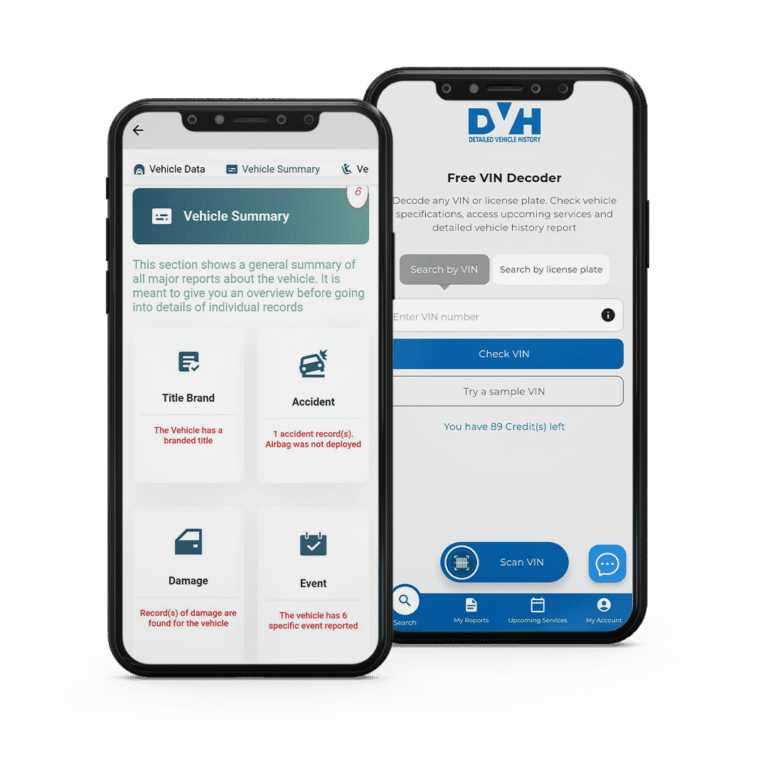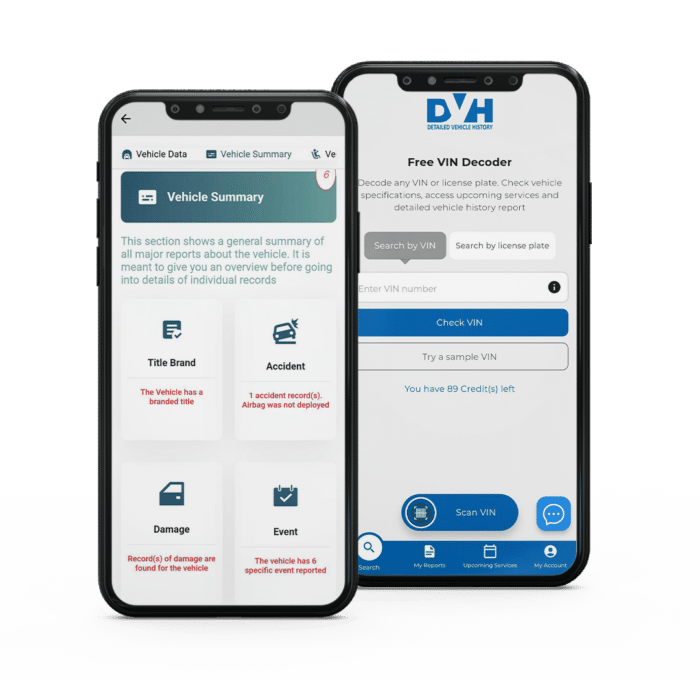 Download the VIN Decoder & Vehicle History App, run VIN checks, Auction Checks, Check upcoming maintenance for your vehicle free! anywhere any time.
Scan, decode VINs, (online and offline) and license plates to check vehicle specifications and access vehicle history reports instantly.
How Do I Check a VIN Number in Indiana?
To check a VIN number in Indiana with our VIN check Indiana tool, follow these steps: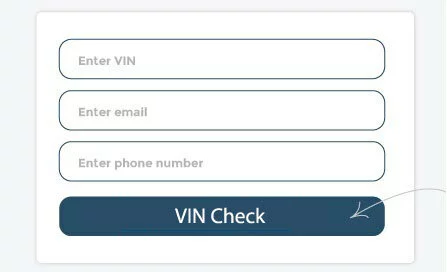 Visit detailedvehiclehistory.com: Go to the website and select "VIN Check" from the drop-down menu
Enter the required details: Enter the VIN number of the car you want to check.
Review the report: Once the report is generated, review it to see the detailed history of the car, including information on accidents, thefts, ownership history, and more.
VIN Lookup By License Plate In Indiana
VIN lookup Indiana: If you don't have access to the VIN number, a VIN lookup by license plate in Indiana is another great way to obtain useful information about a vehicle history and condition. This service, also referred to as reverse license plate lookup, can help car shoppers verify vehicle conditions and reliability and make informed decisions. The information provided by a license plate lookup includes the vehicle specification, lien and loan records, service and maintenance records,, ownership history, auction history, accident history, damage history, theft status, and more.
Other Resources for Indiana Car Owners and Drivers
Indiana has a vibrant used vehicle market, with more than 11,000 used car dealerships in the state. According to a report by the Indiana Department of Revenue, the average price of a used vehicle in Indiana in 2018 was $14,509.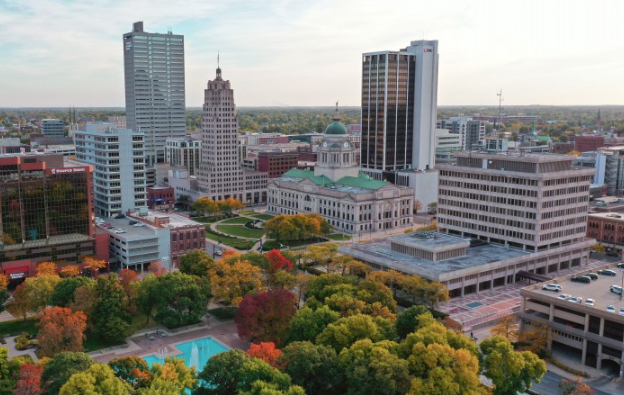 In 2019, there were more than 121,000 vehicle crashes reported in the state. Of these, 609 resulted in fatalities and over 33,000 resulted in injuries. The majority of these crashes (60%) were due to driver error, such as distracted driving, failing to yield, and speeding.
Indiana has some of the most stringent vehicle inspection requirements in the country. All vehicles registered in the state are required to undergo an annual safety inspection. The inspection includes a visual inspection of the vehicle's brakes, steering, suspension, and exhaust system, as well as a check for any mechanical problems. Additionally, all vehicles must pass an emissions test every two years.
Free VIN Check Indiana Tool
Are you in need of a free VIN check service in Indiana? Detailed Vehicle History is one of the few companies providing accurate vehicle information to consumers for free. With our free vin check Indiana tool, you can access vehicle specifications, manufacturer information, etc. to help you in the car buying or parts buying process. However, if you need detailed information, you will need to use our paid service – our VIN lookup Indiana tool.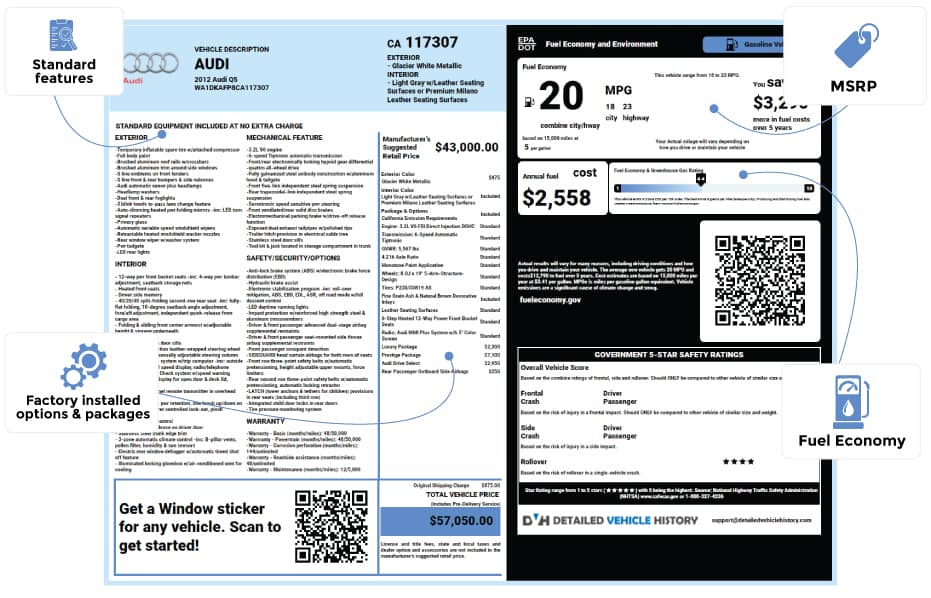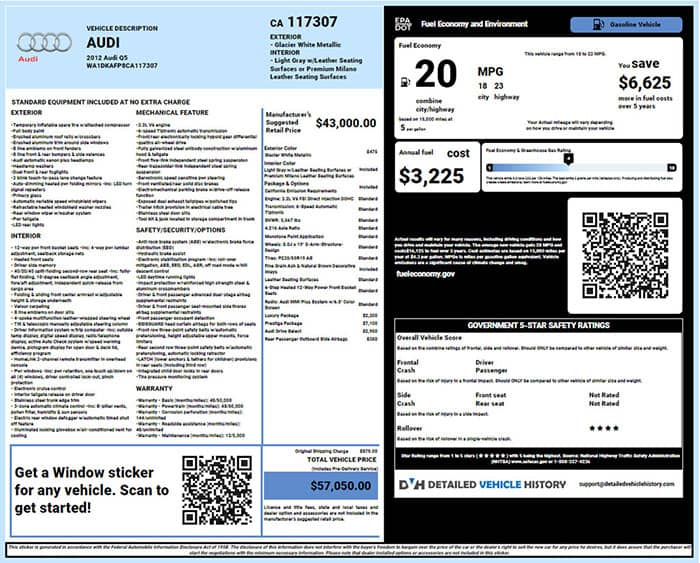 A window sticker is a piece of documentation usually affixed on a car's window that offers a glance exposition of the special features of a particular vehicle.
It usually sheds more light on MSRP, standard and optional equipment, additional packages, fuel economy rating, and more.
Frequently Asked Question (FAQs)
Yes, an Indiana VIN number can be checked online with a VIN check tool, such as the one provided by Detailed Vehicle History. The VIN number is a unique code assigned to vehicles that can be used to gain insight into the history and records of a vehicle from when it was manufactured to its current owner. With the Indiana VIN number check service, you can easily check a vehicle for any lien and loan records, accident records, mileage records, theft records, and more.
To check the title history of a vehicle in Indiana with the VIN check tool provided by Detailed Vehicle History, locate the VIN of your car and navigate to the VIN Check tool to fill out the form provided with the requested information.
Without doubt, Detailed Vehicle History remains one of the top best VIN check websites that provide a free VIN decoding to get vehicle specifications and a paid VIN check service to access the complete history of a vehicle. They are usually regarded as the best CARFAX alternative due to their relatively affordable VIN check service. Use our free VIN check Indiana tool and get accurate vehicle specifications for free.