Washington VIN Check and Lookup
For anyone wanting to buy a used car in Washington (WA), a VIN check is a very important step. It offers crucial details on a vehicle's past, including its mileage, ownership history, and accident history. Our VIN lookup WA tool is a safe way to check a vehicle's history in Washington. Conducting a Washington state VIN number check before buying a used car will give peace of mind and prevent you from vehicle-related fraud and scam.
Why Should You Run a VIN Check In Washington?
The Washington state VIN check can reveal severe car repairs and structural issues. The entire history of the vehicle may not be disclosed by the seller. If they weren't the original owner, they might not be aware of its past. You can fill in the blanks by running a Washington VIN check.
A VIN number check is crucial when purchasing a used car to prevent fraud. You can learn more about the specifications of the car by running a VIN lookup WA. You can get noteworthy details on the car's past, such as how many times it's been owned, recalls, whether it has a salvage title, and whether it's ever been in an accident.
You can check a vehicle's VIN to see if it has any open lien and loan, has been written off, or has been stolen. Also, you can look for odometer rollbacks, a history of fire or flood damage, and whether the vehicle's former owners gave it the necessary maintenance.
Information Provided by a Washington VIN Lookup
A VIN lookup in Washington provides information such as vehicle specifications, number of previous owners, accident history, mileage history, theft status, titles and damages, lien and loan information, service and maintenance history, recall information etc Having access to this information is critical to buying a used car in good condition and that suits your need. You can easily make a wise selection when buying or selling a used car in Washington.




Best times to buy and sell
How Do You Check If a Car is Stolen in Washington?
Since they maintain a stolen vehicle database, the National Crime Information Bureau (NCIB)  allows the public to run a free check of the theft status of a car.
Here are other ways to check the theft status of a used car in Washington
Run a complete VIN lookup WA. This service is offered by Detailed Vehicle History at a very affordable price.

Investigate the seller if you have the time and the necessary information.
In many instances, stolen vehicles are sold to unwary motorists in Washington. Hence, it's crucial that you understand how to protect yourself against this crime and keep yourself from becoming a victim by performing a VIN lookup WA.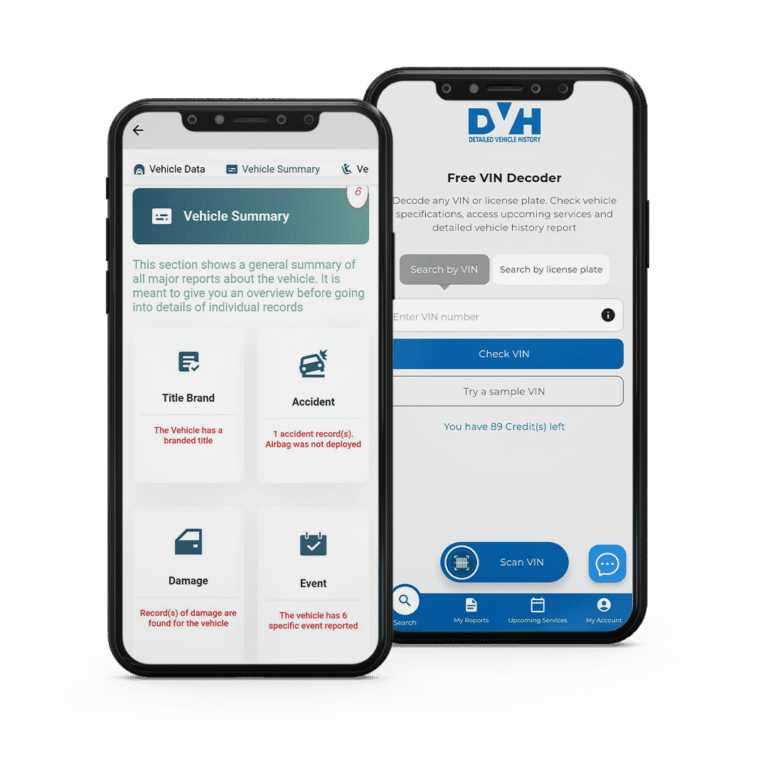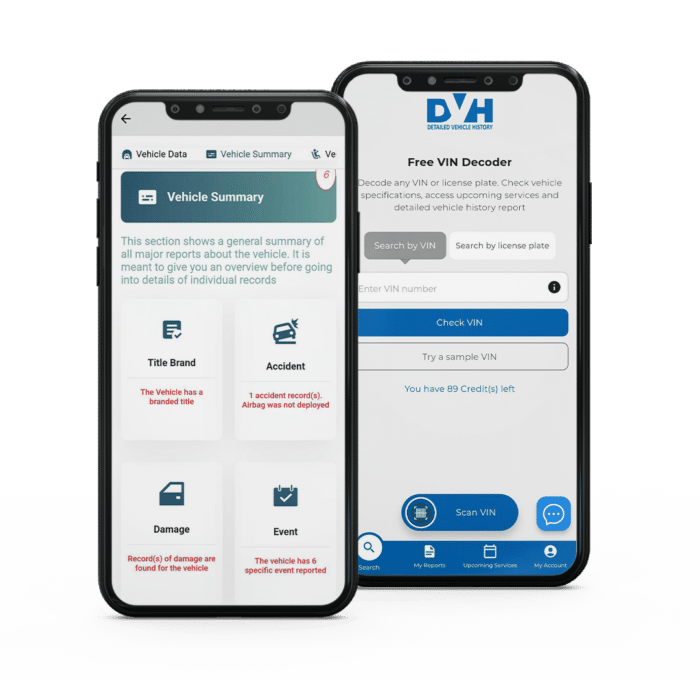 Download the VIN Decoder & Vehicle History App, run VIN checks, Auction Checks, Check upcoming maintenance for your vehicle free! anywhere any time.
Scan, decode VINs, (online and offline) and license plates to check vehicle specifications and access vehicle history reports instantly.
How Do I Check a VIN Number in Washington?
To check a car's history in Washington with detailedvehiclehistory.com, you can follow these steps: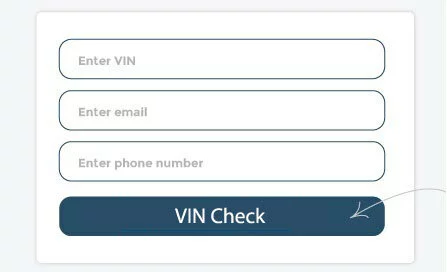 Visit detailedvehiclehistory.com: Go to the website and select "VIN Check" from the drop-down menu
Enter the required details: Enter the VIN number of the car you want to check.
Review the report: Once the report is generated, review it to see the detailed history of the car, including information on accidents, thefts, ownership history, and more.
VIN Lookup By License Plate In Washington
A Washington VIN lookup by license plate, or reverse license plate search in Washington, is another reasonable way to obtain details about a vehicle's specification and history. All you need to provide is the Washington license plate number. The Detailed Vehicle History advanced technology can search public databases to uncover important vehicle information connected to the Washington license plate number.
Other Resources for Washington Car Owners and Drivers
Washington State Department of Licensing regulates drivers and vehicle owners in the state of Washington.
To own a vehicle in Washington State, you must have a valid title, registration, license plates, and a current emissions test. All drivers in Washington State must have a valid driver's license, and all cars must be insured.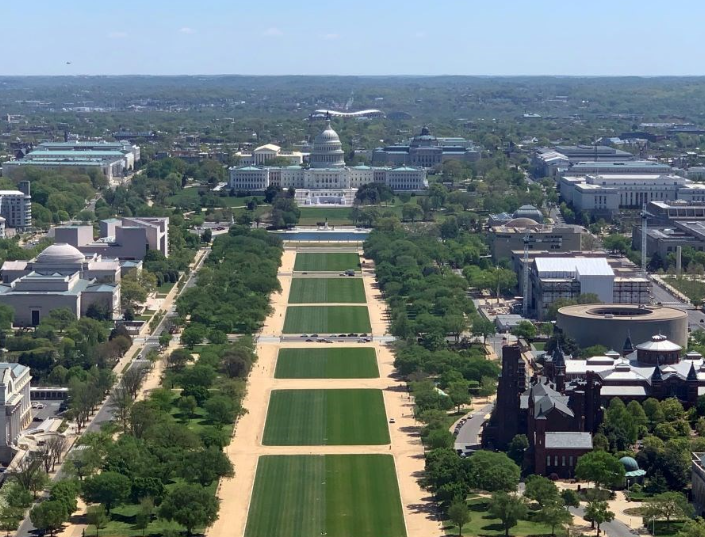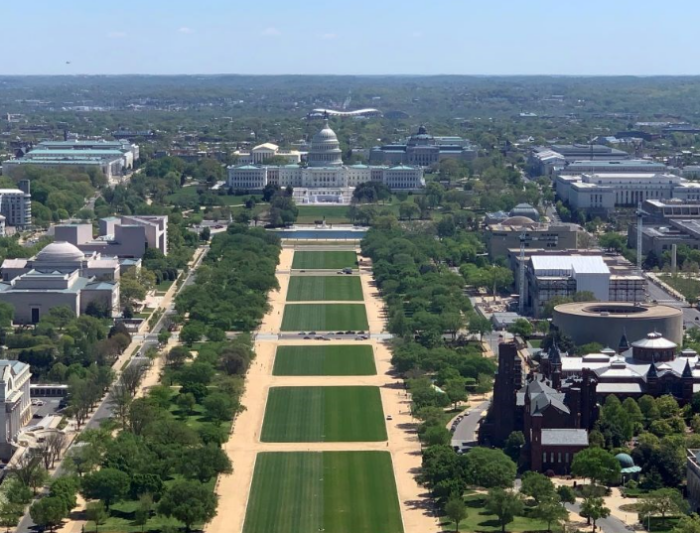 Washington State requires all drivers to carry liability insurance, and the minimum amount of coverage is $25,000 for bodily injury or death of one person, $50,000 for two or more persons, and $10,000 for property damage.
In addition, all drivers in Washington State are required to take a driver safety course approved by the Department of Licensing. The Department of Licensing also offers an online driver safety course that can be taken from the comfort of your home.
Washington State also has a Vehicle Safety Inspection Program, which requires all vehicles to undergo regular safety inspections. The program is designed to ensure that all vehicles are in safe working condition and meet the safety standards set by the state. If you are a driver in Washington State, you must also take a vision test before you can obtain or renew your driver's license. The Department of Licensing also offers free vision tests for those who qualify.
Finally, if you are a driver in Washington State, you must abide by the state's traffic laws. This includes obeying speed limits, stopping at stop signs, and other laws established by the state. Failing to obey these laws may result in a ticket or other consequences.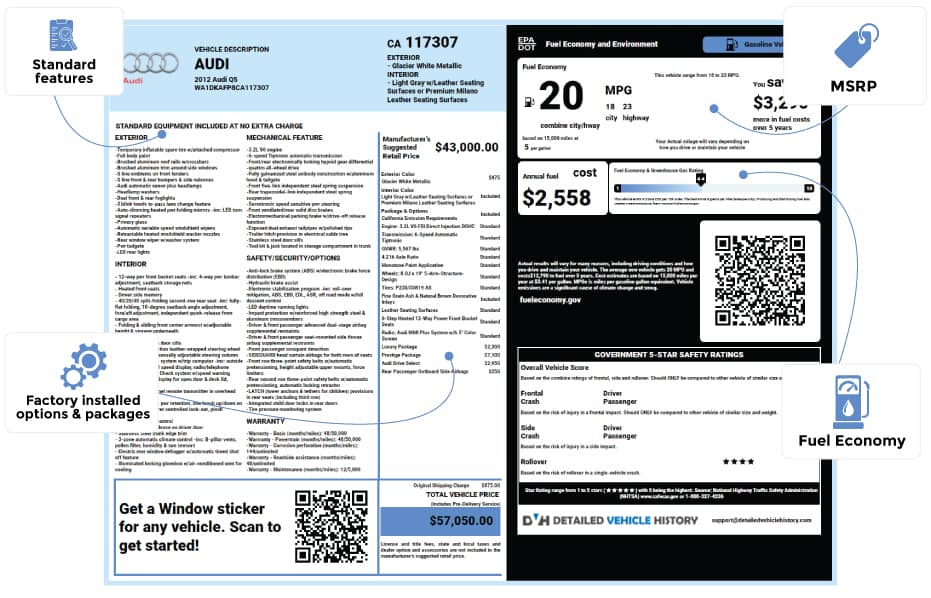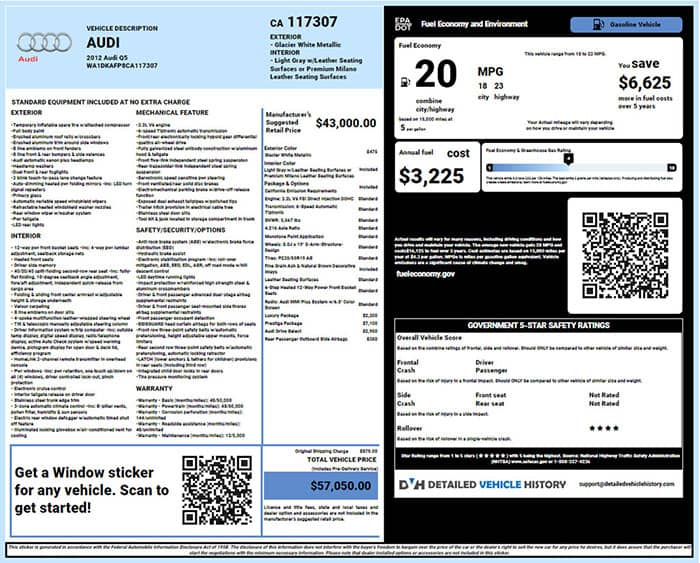 A window sticker is a piece of documentation usually affixed on a car's window that offers a glance exposition of the special features of a particular vehicle.
It usually sheds more light on MSRP, standard and optional equipment, additional packages, fuel economy rating, and more.
Frequently Asked Question (FAQs)
A Washington VIN check can provide information about a vehicle's manufacturer, special features, specs and history. This may include recall information , thefts records, accident records, mileage, title history, service and maintenance history etc. To avoid buying a car with hidden and legal issues, it's better to do a VIN number check in Washington before buying a used car in the state. Detailed Vehicle History offers this service at a very affordable price – it's simple to use and 100% accurate.
Detailed Vehicle History developed a free VIN decoder app which can also be used to run a dmv Washington VIN check at a very affordable price. The free VIN decoding or free VIN check will only provide partial vehicle information like the year, make, model, engine information, etc. The app name is 'VIN decoder & Vehicle History' and is available for download on Google Play Store and APP Store. Please note that there is no free VIN Check WA. You will be required to pay a fee to lookup detailed vehicle history report in Washington.
Detailed Vehicle History, CARFAX, EpicVIN, Bumper, ClearVIN have been considered as very reliable companies when it comes to running a thorough Washington VIN check. Detailed Vehicle History standout as the best CARFAX alternative when it comes to obtaining comprehensive vehicle information, including auction records and photos. They also offer a Washington motorcycle VIN check for any used motorcycle in the state.