Missouri VIN Check and Lookup
In Missouri, you can perform a VIN check using the fact-finding VIN check tool provided by Detailed Vehicle History. The VIN check allows you to obtain information about the history of a vehicle, including previous number of owners, accident history, and title status. This can help you make an informed decision before purchasing a used vehicle in Missouri.
Why Should You Run a VIN Check In Missouri?
To ensure an interesting used car buying experience in Missouri, it's crucial to obtain a comprehensive vehicle history report beforehand. This report offers valuable insights, including the car's past accidents, sales records, repairs, and auction records and images, which are not evident through a mere visual or mechanical inspection.
Apart from providing details about a vehicle's past, a Missouri VIN check is necessary for other reasons. Firstly, it can help confirm the vehicle's previous owners, including amount of owners, date of purchase and locations. Secondly, a VIN check can uncover any accidents the vehicle has been in and the severity of the damage. This knowledge can aid in negotiating a better price or avoiding a potentially hazardous car.
In addition, a VIN check can reveal any warning signs that might indicate a problem with the vehicle, such as a salvage title, records of theft, or previous flood damage. With this information, you can negotiate a lower price with the seller or refrain from purchasing a car that may lead to future problems or safety issues.
By utilizing reliable online services to conduct a VIN check, such as our Missouri VIN Check tool, you can prevent scams and frauds associated with purchasing a used car, such as stolen or tampered vehicles. Once you receive the report, scrutinize it for any red flags or issues that may impact the vehicle's safety or value. If you have any doubts or queries, don't hesitate to seek more information from the seller or consult a professional mechanic or car expert.
Information Provided by a Missouri VIN Lookup
Our Missouri VIN lookup service offers a comprehensive vehicle history report that includes crucial details such as past accidents, sales records, service and repairs, and auction records and photos (when available). We go above and beyond by verifying the full history of the vehicle since manufacture, identifying any warning signs that could indicate potential problems. What makes our service stand out is our unwavering dedication to accuracy and transparency. We gather information from trustworthy sources to ensure that our reports are always up-to-date and are precise. Additionally, we present the data in an easy-to-understand format that anyone can comprehend, regardless of their automotive expertise. Our reports also include auction and sales history, which sets us apart from other providers.




Best times to buy and sell
Find the Owner's Details of a Vehicle in Missouri By VIN Search
Our vehicle history report complies with state laws and privacy regulations, which restrict us from revealing any personal details about prior owners. Nonetheless, our report presents data about the locations where the vehicle was utilized, its usage timeline, and the count of past owners, including the duration of ownership.
Therefore, performing a VIN check in Missouri will furnish you with ownership particulars of a pre-owned vehicle and other pertinent information.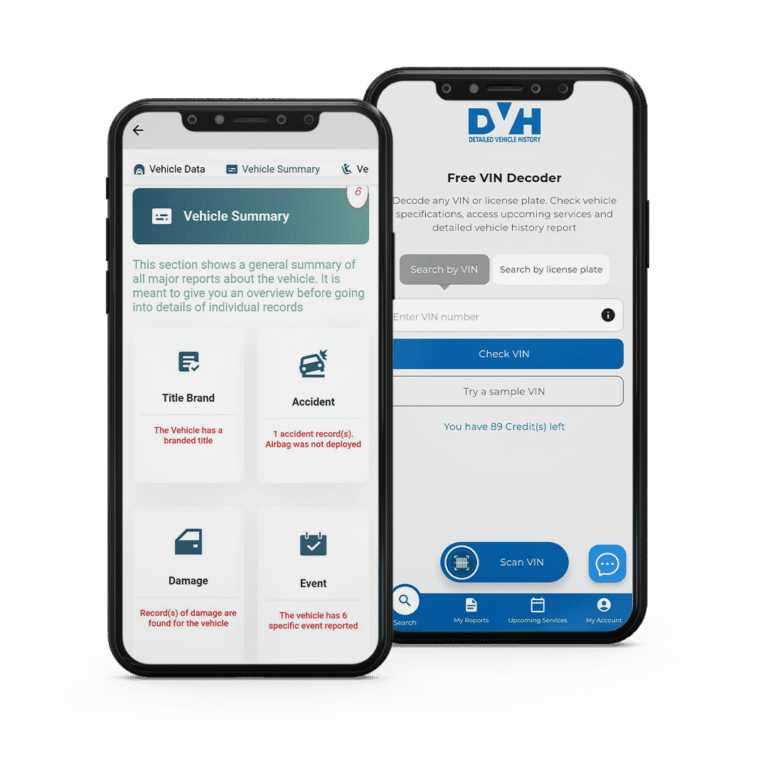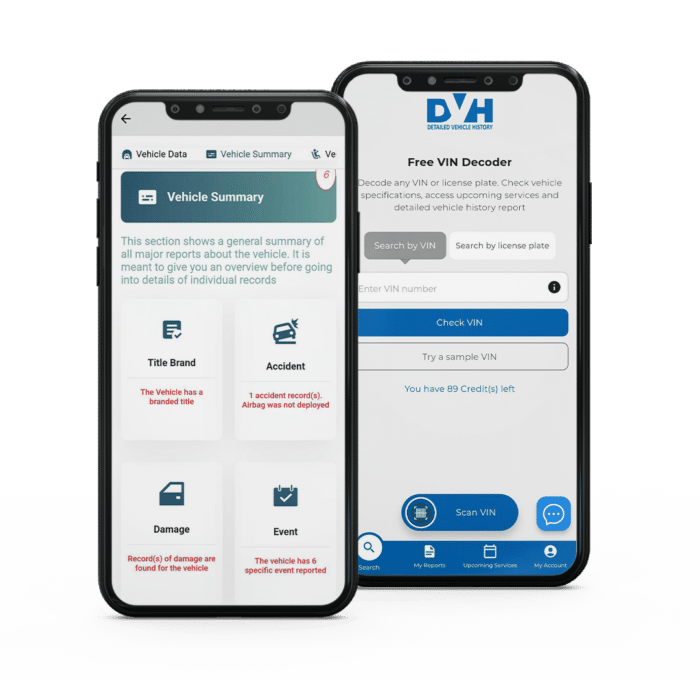 Download the VIN Decoder & Vehicle History App, run VIN checks, Auction Checks, Check upcoming maintenance for your vehicle free! anywhere any time.
Scan, decode VINs, (online and offline) and license plates to check vehicle specifications and access vehicle history reports instantly.
How Do I Check a VIN Number in Missouri?
To check a car's history in Missouri with detailedvehiclehistory.com, you can follow these steps: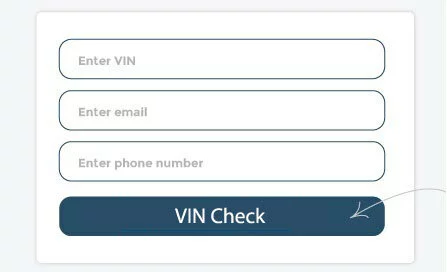 Visit detailedvehiclehistory.com: Go to the website and select "VIN Check" from the drop-down menu
Enter the required details: Enter the VIN number of the car you want to check.
Review the report: Once the report is generated, review it to see the detailed history of the car, including information on accidents, thefts, ownership history, and more.
VIN Lookup By License Plate In Missouri
Utilizing our license plate lookup tool enables you to decode the license plate number and obtain a detailed vehicle history report for the linked VIN.
You can easily perform a VIN lookup by license plate in Missouri by using our powerful license plate lookup tool. Our website facilitates the process by allowing you to enter the license plate number, which then generates a detailed report which includes vital information regarding the vehicle's history such as accidents, title status, ownership records, recalls, and service records.
Detailed Vehicle History user-friendly and trustworthy tool provides you with the information required to make an informed decision about a vehicle's value and safety in a rapid and efficient manner.
Other Resources for Missouri Car Owners and Drivers
Here are some of the issues faced by car drivers in Missouri:
1. Uninsured Drivers: Missouri is the only state in the nation that does not require drivers to have auto insurance. As a result, there are a large number of uninsured drivers in the state, which can cause financial hardship for those involved in an accident with an uninsured driver. 2. High Car Insurance Rates: Missouri has some of the highest car insurance rates in the nation, due to the high number of uninsured drivers and the state's history of having higher-than-average accident rates.
3. Poor Road Conditions: Many of Missouri's roads are in poor condition due to a lack of maintenance and funding, which can lead to increased wear and tear on cars, as well as increased risk of accidents.
4. Unsafe Driving Habits: Missouri has been ranked as one of the worst states in the nation for unsafe driving habits, such as drunk driving and texting while driving.
5. Car Theft: Missouri has one of the highest rates of car theft in the nation, making it important for car owners to take extra precautions to protect their vehicles by using our VIN check tool to check for theft records before buying a used car in the state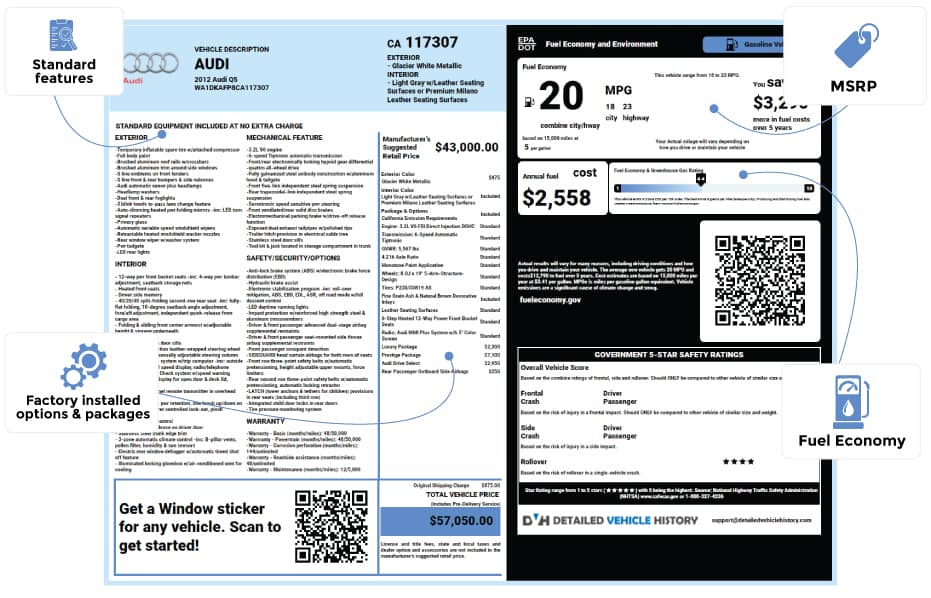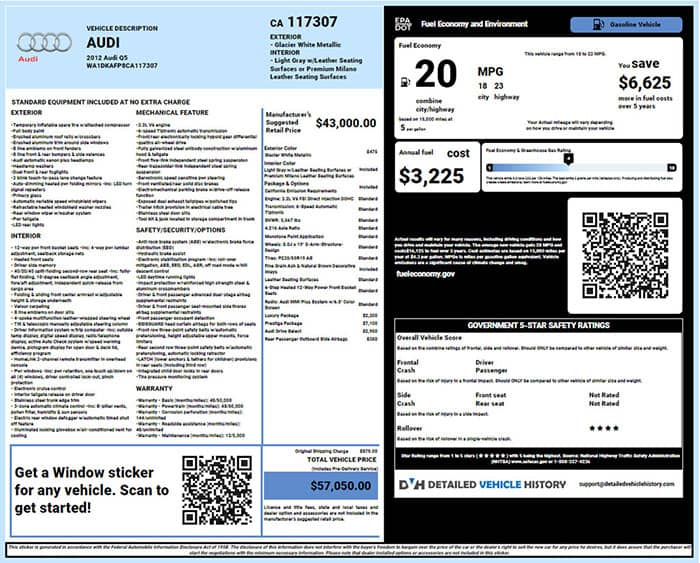 A window sticker is a piece of documentation usually affixed on a car's window that offers a glance exposition of the special features of a particular vehicle.
It usually sheds more light on MSRP, standard and optional equipment, additional packages, fuel economy rating, and more.
Frequently Asked Question (FAQs)
Governmental and regulatory agencies in Missouri may offer this information. Our vehicle history report does not disclose the biodata of any car owner due to privacy laws, but you can still get an overview of ownership records which includes number of owners, dates and locations.
Simply use the VIN number and obtain a detailed vehicle history report here on this page, the report will outline the title and condition of the vehicle.