Mississippi VIN Check and Lookup
Before any car purchase is completed in Mississippi, it is recommended that a VIN check be carried out to determine the vehicle's overall condition, performance, and reliability. With the Mississippi VIN check tool provided by Detailed Vehicle History, car buyers, sellers, and owners can gain full access to their vehicle's information and records and make the best decisions.
Why Should You Run a VIN Check In Mississippi?
There are numerous advantages to conducting a VIN check in Mississippi. A Mississippi VIN check enables car buyers to gain easy access to their vehicle's hidden histories and make informed decisions. Some of the benefits of utilizing the Mississippi VIN check tool include:
Quick identification of mechanical and safety problems: Purchasing a car with mechanical defects and compromised safety features is a nightmare scenario for any car buyer. However, this can be easily prevented with a VIN check and a vehicle history report. With a VIN check, buyers can identify accident records, damage records, title history, and other information that could directly impact a vehicle's mechanical and safety systems.
Unrestricted access to complete vehicle specifications: The Detailed Vehicle History provides lifetime access to vehicle history reports produced using the Mississippi VIN check and lookup tools. This enables car buyers to easily retrieve their vehicle information at any time and from any location.
Detection of stolen vehicles: It is critical to verify that a vehicle has not been stolen before making any payments. Stolen vehicles are subject to police impoundment if discovered and may result in legal issues in the future. To prevent losing your vehicle and ending up in such a situation, it is crucial to conduct a VIN check before finalizing the purchase.
Information Provided by a Mississippi VIN Lookup
A Mississippi VIN lookup provides detailed information about vehicles that can be utilized to make the best decisions and avoid damaged and defective vehicles. Compared to other vehicle history report providers, Detailed Vehicle History stands out as a provider of affordable, concise, and comprehensive reports to their customers. The information provided after a Mississippi VIN check includes:




Best times to buy and sell
How to Check a Vehicle Title in Mississippi?
A salvage title on a vehicle indicates that the vehicle may have experienced major damages, is unsafe to drive, and has been declared a total loss by an insurance company. In Mississippi, you can neither drive nor register a vehicle with a salvage title until it undergoes repairs and attains the rebuilt title, which is issued after a safety inspection by the Mississippi DMV. To avoid this process, make sure to check your vehicle's title records before purchasing with the Mississippi VIN check tool. With the Mississippi VIN check tool, you can check for the following titles on your car:
Clean title
Salvage title
Fleet title
Flood title
Lemon title
Junk title
Rebuilt title, etc.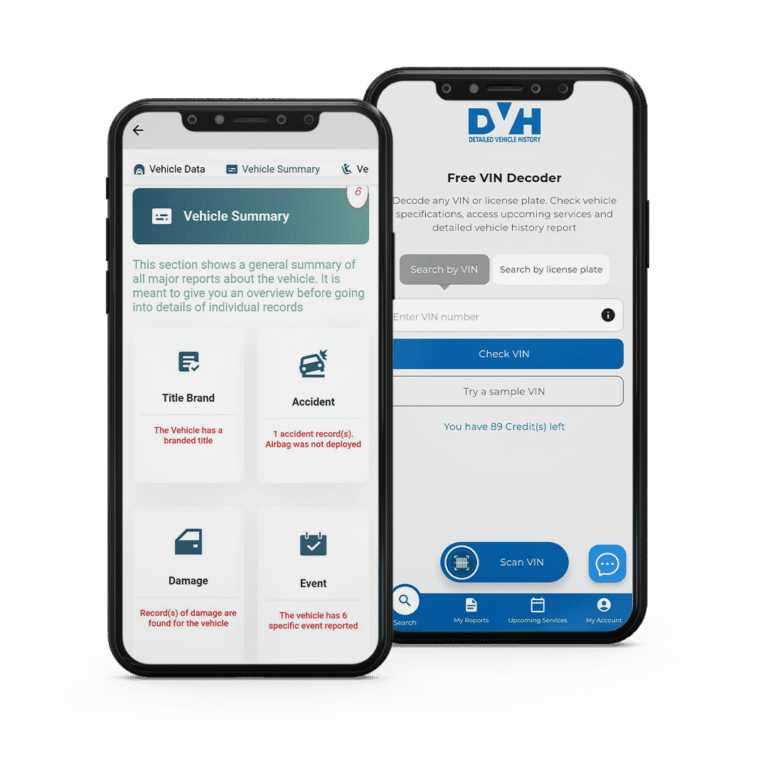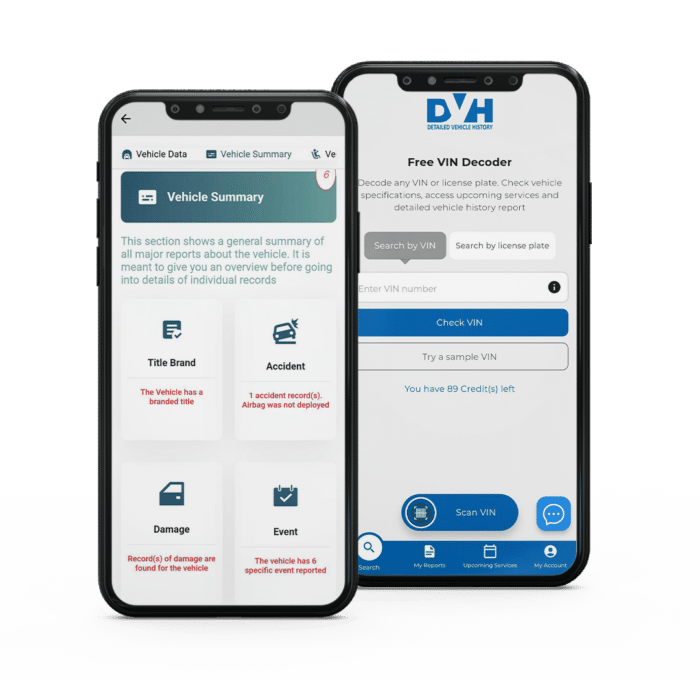 Download the VIN Decoder & Vehicle History App, run VIN checks, Auction Checks, Check upcoming maintenance for your vehicle free! anywhere any time.
Scan, decode VINs, (online and offline) and license plates to check vehicle specifications and access vehicle history reports instantly.
How Do I Check a VIN Number in Mississippi?
A VIN check provided by Detailed Vehicle History is one of the most accurate and proven methods of determining a vehicle's reliability in the automotive industry.
Compared to other vehicle history report providers, our Mississippi VIN check tool provides instant access to records that go way back to the vehicle's first owner. This way, you can discover the backstory of any vehicle and purchase the best. To check a VIN number in Mississippi and get an accurate representation of your vehicle's history, you would have to follow these steps: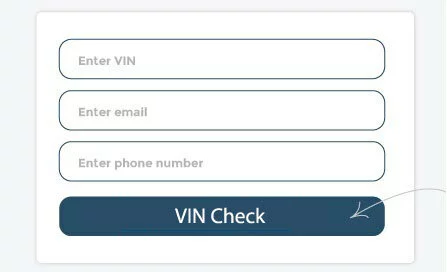 Visit detailedvehiclehistory.com: Go to the website and select "VIN Check" from the drop-down menu
Enter the required details: Enter the VIN number of the car you want to check.
Review the report: Once the report is generated, review it to see the detailed history of the car, including information on accidents, thefts, ownership history, and more.
VIN Lookup By License Plate In Mississippi
If you are away from your car and documents and would like to carry out a VIN lookup, you can do that easily with the Mississippi VIN check tool. The VIN check tool provided by Detailed Vehicle History also decodes license plate numbers and provides vehicle information to car buyers, owners, and sellers. This way, you can access a vehicle's accident history, damage history, sales history, vehicle specifications, and more, wherever you are and whenever you want.
Other Resources for Mississippi Car Owners and Drivers
Mississippi has an estimated population of over 2.9 million people, and the state has a high reliance on automobiles as the primary mode of transportation. Car owners and drivers in Mississippi must adhere to specific rules and regulations, such as: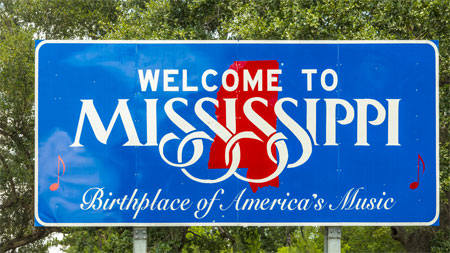 Minimum insurance requirements: Mississippi drivers are required to carry liability insurance that covers at least $25,000 per person and $50,000 per accident for bodily injury, as well as $25,000 for property damage. Failure to maintain proper insurance coverage can result in fines, license suspension, and vehicle impoundment.
Safety inspections: Mississippi does not require annual safety inspections for vehicles. However, drivers must ensure that their cars are in good condition and meet safety standards, such as having functioning brakes, lights, and signals.
Driver's license requirements: Drivers in Mississippi must have a valid driver's license and carry it with them while driving. The state also has a Graduated Driver Licensing (GDL) program, which gradually allows new drivers to gain experience before obtaining a full license.
Seat belt laws: Mississippi has a primary seat belt law, which means that drivers and passengers can be pulled over and ticketed solely for not wearing a seat belt. Children under the age of 7 must be secured in an appropriate car seat or booster seat.
In addition to these rules and regulations, Mississippi car owners and drivers can also explore various resources, such as the Mississippi Department of Transportation (MDOT) and the Mississippi Insurance Department, to access valuable information and services related to driving and car ownership.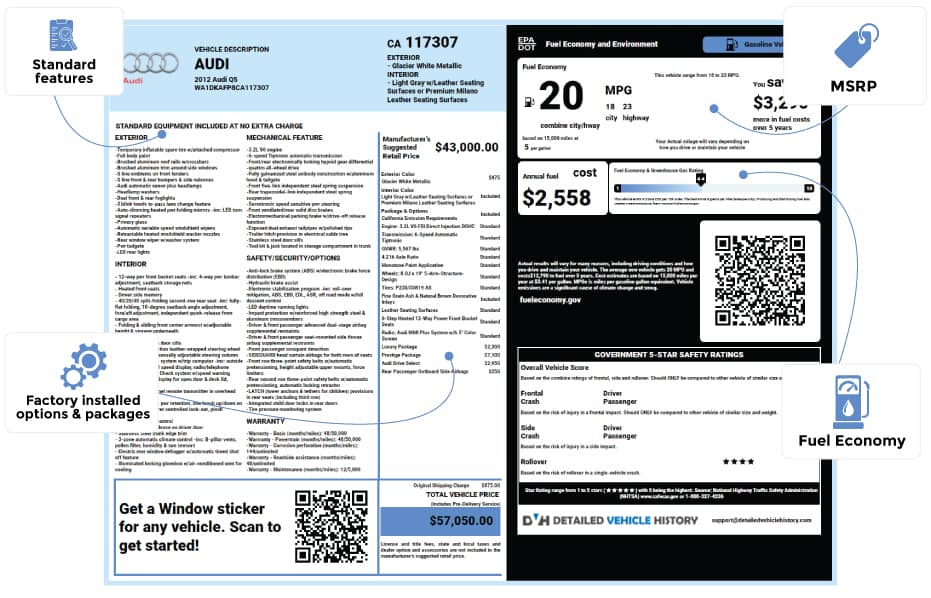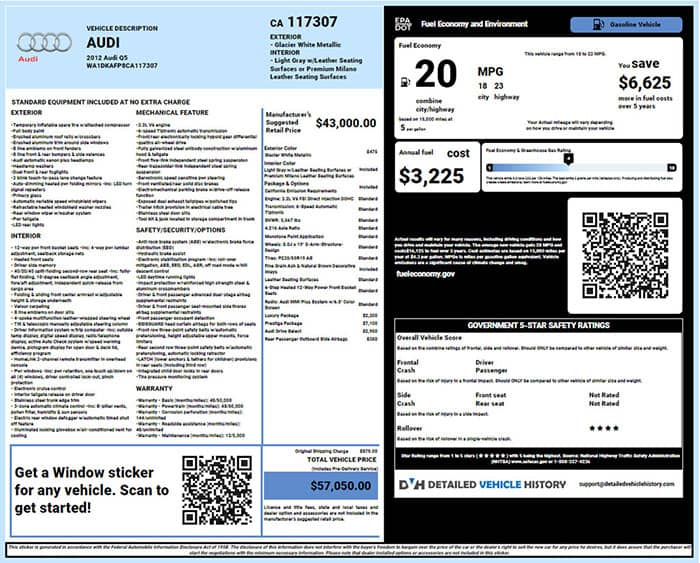 A window sticker is a piece of documentation usually affixed on a car's window that offers a glance exposition of the special features of a particular vehicle.
It usually sheds more light on MSRP, standard and optional equipment, additional packages, fuel economy rating, and more.
Frequently Asked Question (FAQs)