Introducing the Jaguar VIN Decoder Tool, your number 1 solution to unlocking the hidden world of your Jaguar's history! Unearth crucial details like manufacturing date, engine specifications, and safety features in seconds, with our user-friendly, accurate, and lightning-fast platform.
Why is Jaguar VIN Decoding Important?
VIN Decoder Jaguar: Jaguar VIN decoding is crucial for owners, potential buyers, and enthusiasts alike, as it provides essential information about a vehicle's unique history and specifications. By decoding a Jaguar's VIN, you can verify its authenticity, ensure the accuracy of the listed features, and avoid potential fraud or unpleasant surprises.
Moreover, a Jaguar VIN check can reveal any recalls or safety concerns associated with a particular model, allowing you to make informed decisions and maintain the safety and performance of your cherished Jaguar. In essence, VIN decoding is a key step in ensuring a satisfying and secure Jaguar ownership experience.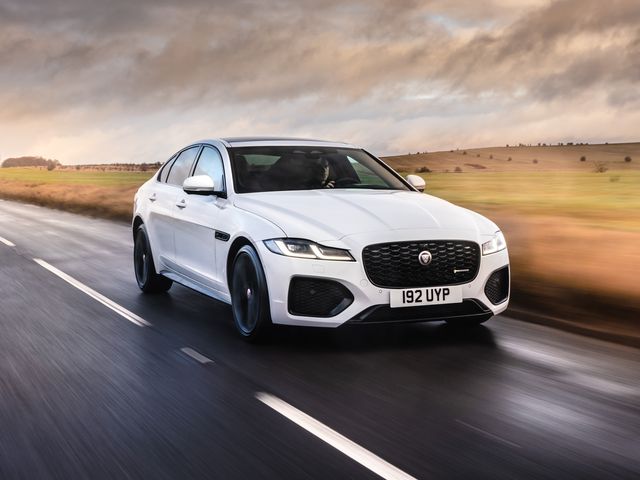 How to Decode a VIN Number?
Enter your VIN, email address, and phone number on the form fields provided, click on "Check VIN"
Proceed to payment, after which you will be redirected to your dashboard
On your dashboard, you will get the available report for online view and also downloadable as a PDF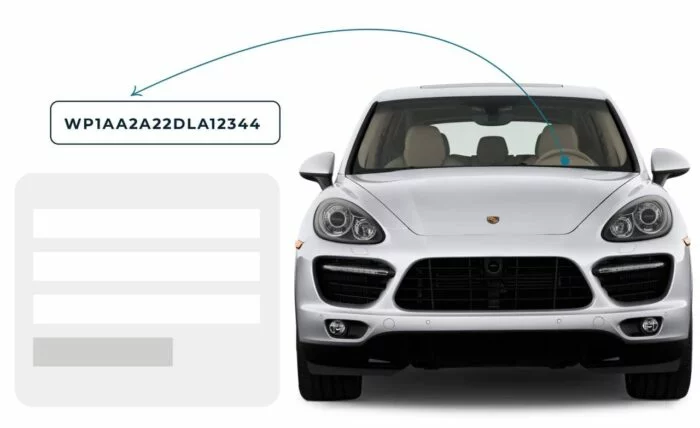 The Information Provided by Our Jaguar VIN Decoder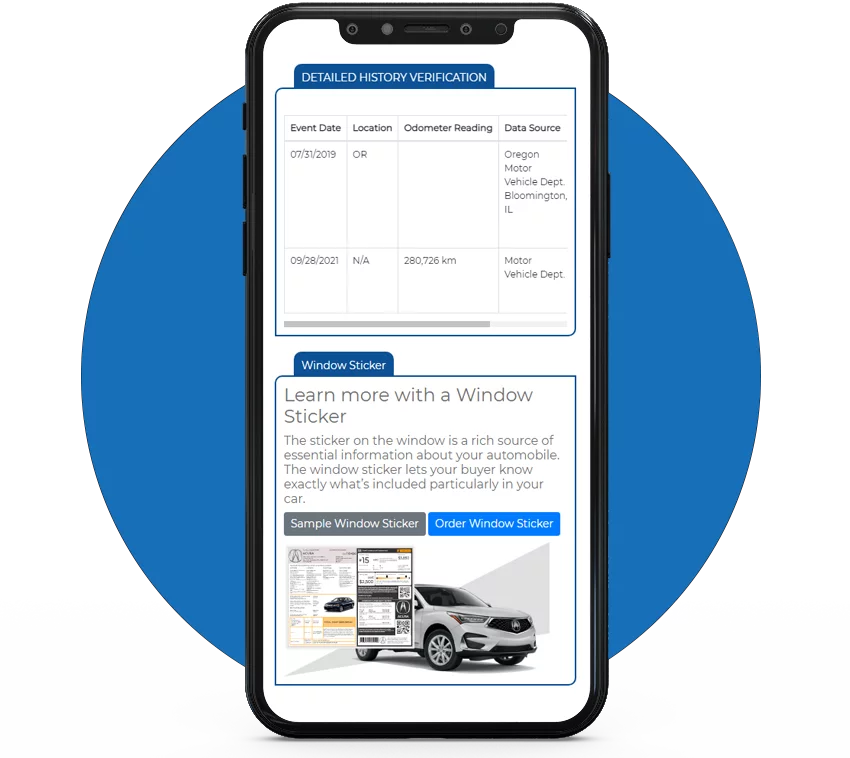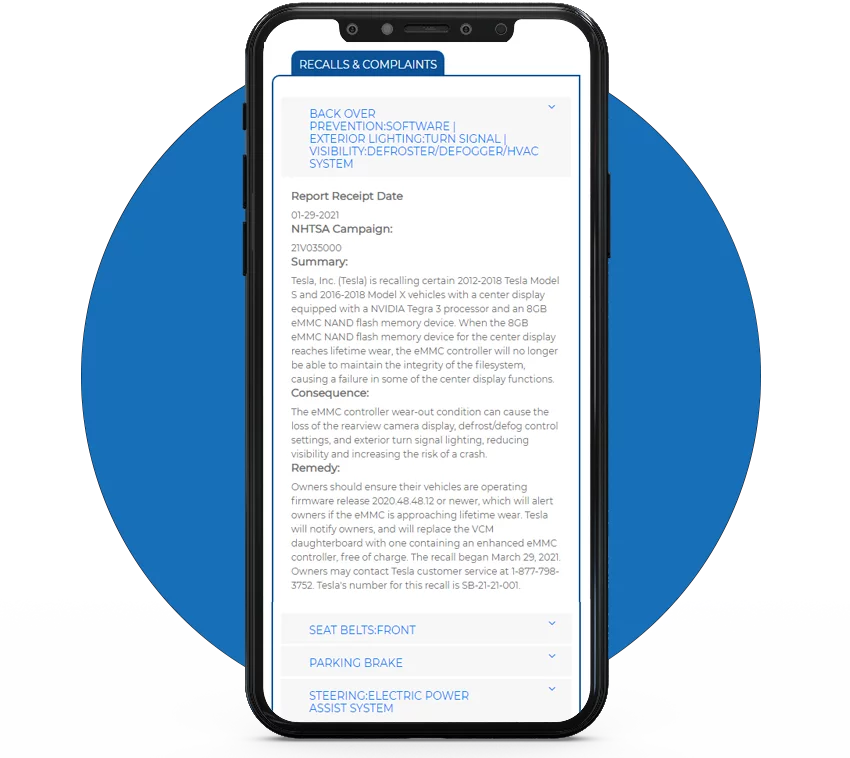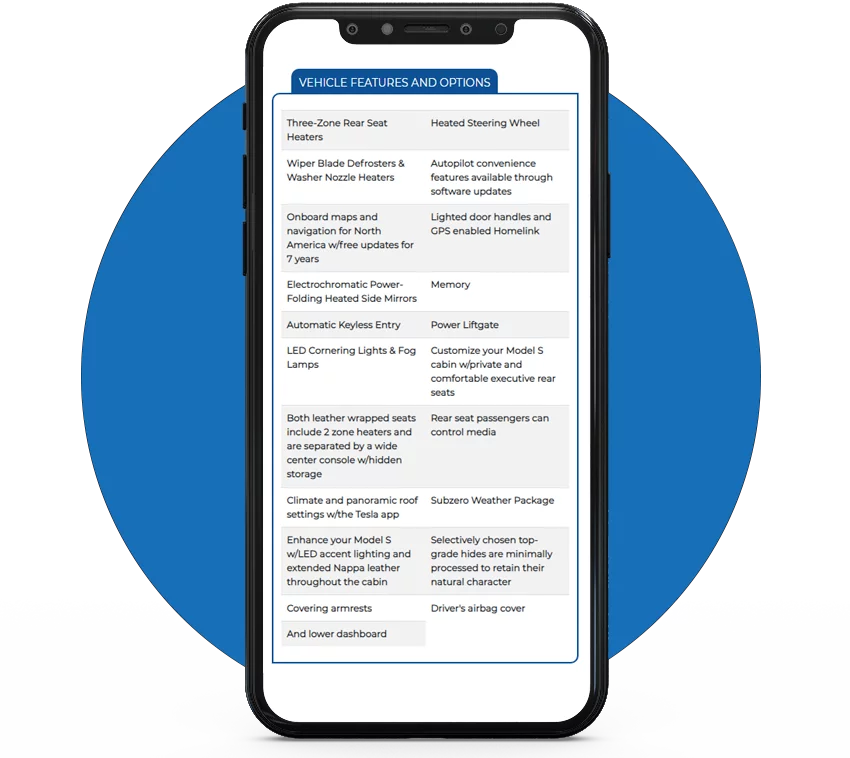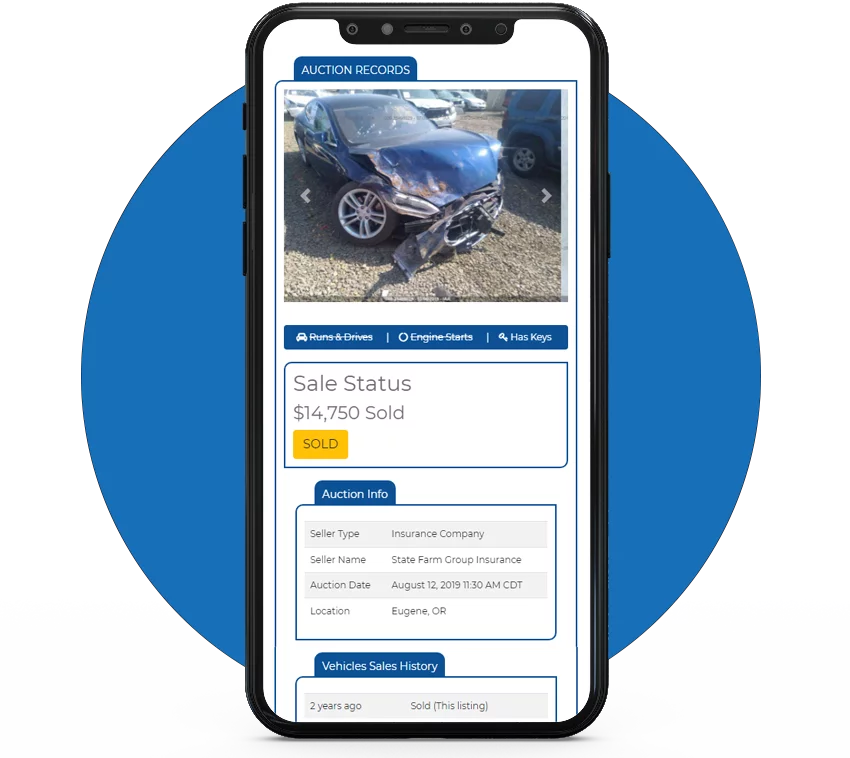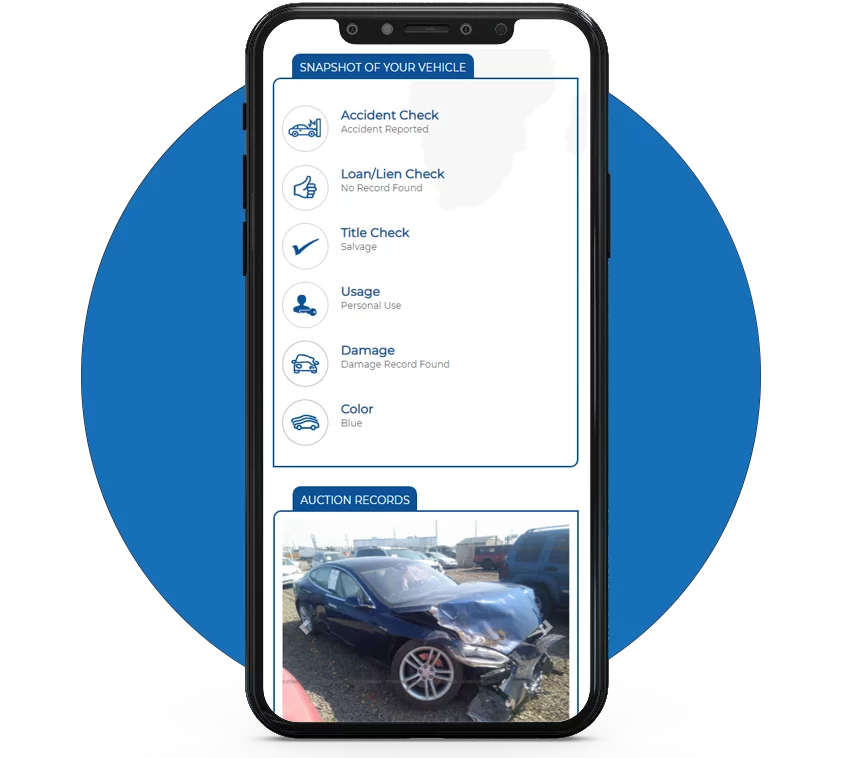 The Jaguar VIN Decoder is a treasure trove of vital information for any Jaguar enthusiast or a potential buyer. By simply entering the 17-digit Vehicle Identification Number, the decoder unveils a wealth of knowledge, including the manufacturing year, factory location, and engine type. Additionally, it discloses crucial details like the vehicle's model, trim, paint color, and optional equipment, allowing you to accurately assess the vehicle's value and compatibility with your needs.
Furthermore, the Jaguar VIN Decoder helps identify any recall notices or safety concerns, empowering you with the confidence and peace of mind to make informed decisions about your prized possession. Need more information on any Jaguar's history and records? Your best bet would be to carry out a full Jaguar VIN check. A Jaguar VIN check gives you an opportunity to be sure of a vehicle's past before purchase. Be sure of that purchase today!
Jaguar Vin Decoder Sample Report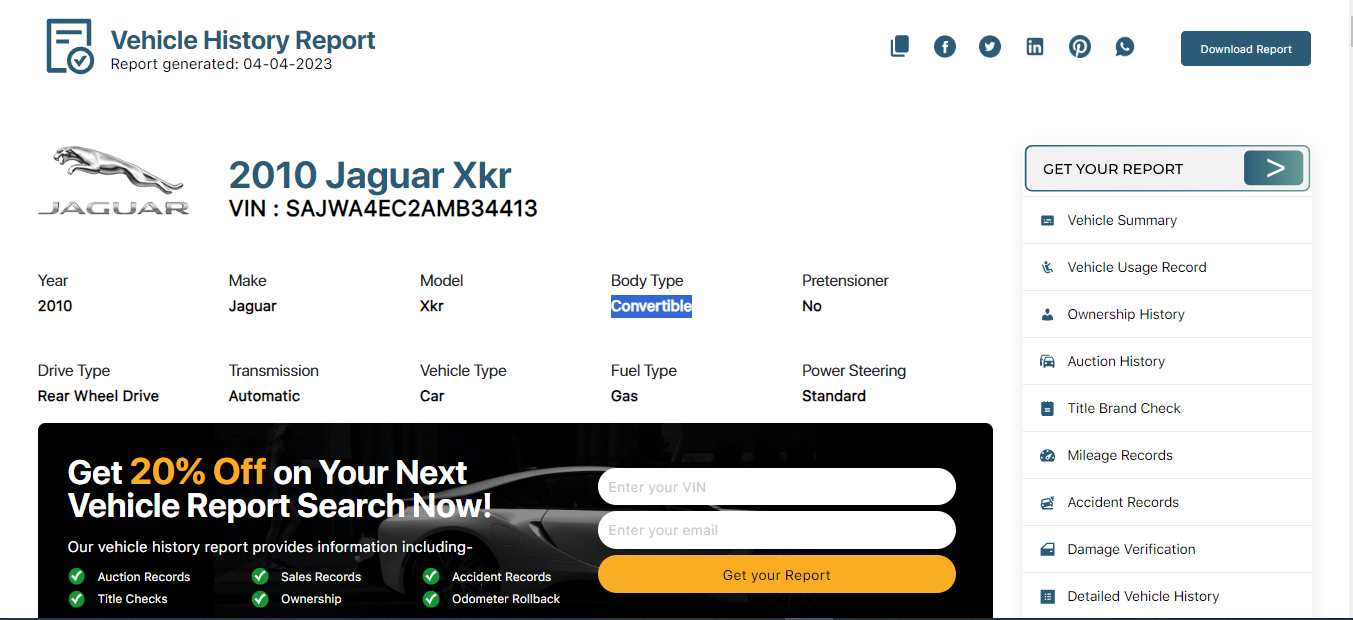 VIN: SAJWA4EC2AMB34413
Style / Body: Convertible
Engine: 5.0L V8 DOHC 32V SUPERCHARGED
Country of Assembly: UNITED KINGDOM
How To Identify Jaguar Specs By VIN Decoding?
To identify Jaguar specs by VIN decoding, simply input the 17-digit Vehicle Identification Number into a reliable Jaguar VIN Decoder tool. This unique code, found on the driver's side dashboard or door jamb, serves as a fingerprint for your vehicle, offering valuable insights into its specifications. Once decoded, the VIN unveils essential information such as engine type, transmission, drivetrain, and performance capabilities.
Additionally, it reveals the model, trim, paint color, and any optional packages or equipment that the vehicle may have. By decoding the VIN, you can effectively evaluate the features and value of a Jaguar, ensuring that you have a comprehensive understanding of the vehicle's specifications and history.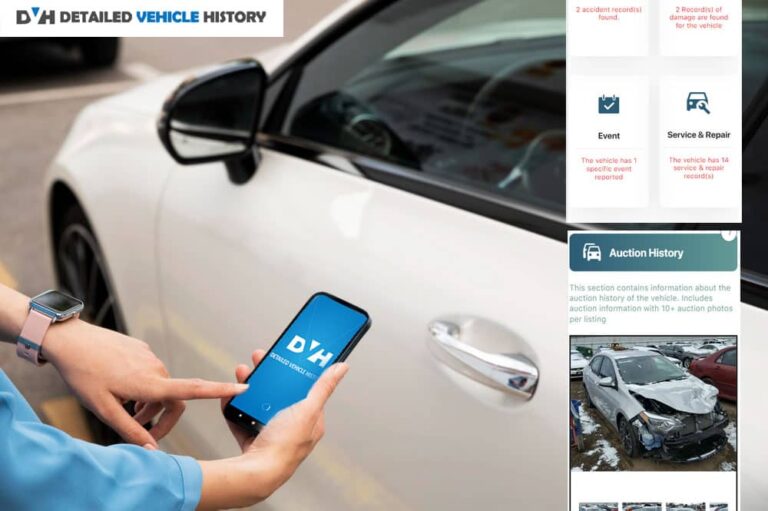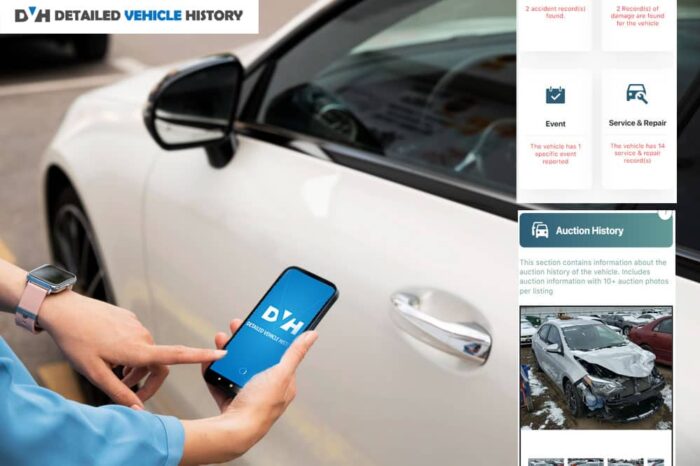 Useful Information For Jaguar Vehicle Owners
Jaguar vehicle owners can enhance their ownership experience by following some general tips and useful information. Regular maintenance, as per the manufacturer's recommended service intervals, is vital for optimal performance and longevity. Familiarize yourself with the Jaguar InControl infotainment system to maximize your driving experience and utilize the various safety features and connectivity options available. Invest in high-quality tires and monitor their condition frequently to ensure a smooth and safe ride. For electric models like the I-PACE, it's essential to understand charging options and plan your trips accordingly.
Lastly, joining Jaguar owner clubs and online forums can provide valuable resources and a supportive community for sharing experiences, troubleshooting, and discovering the latest news and updates related to your Jaguar. Embrace these tips and enjoy the unparalleled driving experience that comes with being a proud Jaguar owner.
Get an Accurate Jaguar VIN Check Report for the Following Models
Jaguar XE (compact executive sedan)

Jaguar XF (midsize luxury sedan)

Jaguar XJ (full-size luxury sedan)

Jaguar F-Type (sports car)

Jaguar E-PACE (compact luxury crossover SUV)

Jaguar F-PACE (midsize luxury crossover SUV)

Jaguar I-PACE (electric luxury crossover SUV)
Frequently Asked Questions
Decode VIN by manufacturer