Rhode Island VIN Check and Lookup
Whether you're in Rhode Island or anywhere across the globe, a VIN check is an important tool when buying a used car. It provides useful information about a vehicle's history, such as accident history, ownership records, mileage, and more. Our accurate and advanced Rhode Island VIN check tool can help prevent fraudulent transactions while offering peace of mind to used car shoppers.
Why Should You Run a VIN Check In Rhode Island?
To ensure that the car you're purchasing is safe and reliable, it's advised to check for any potential accidents or damage that the vehicle may have been involved in. Serious damages from accidents can render a car unsafe for driving. Conducting a VIN check can help reveal any minor or major accidents, alongside other damage records caused by natural disaster, flood, hail, fire etc.
According to the Rhode Island Department of Business Regulation, there were 3,348 cars that were totaled in Rhode Island between 2015 and 2019. It is likely that some of these cars were flooded or involved in other types of accidents, though this data is not specifically tracked by the state.
Running a VIN check can provide you with other crucial information and records about the vehicle, including its specifications, safety ratings, market value, fuel efficiency, warranty status, manufacturer recalls, title records, sales records and lien records. To fully uncover the history of your next vehicle, consider conducting a Rhode Island VIN check.
Information Provided by an Rhode Island VIN Lookup
By conducting a VIN check in Rhode Island, you can access a wide range of information about the vehicle you're interested in purchasing. This includes details about the vehicle's title information, brand history, recall information, odometer readings, number of previous owners, service and repair history, loan and lien information (which is particularly important to avoid potential loss of the vehicle), auction photos and history, warranty status, theft records, and flood, fire, and hail damage information.
Our service is built on a foundation of accuracy and transparency, and we strive to ensure that all information in our reports is up-to-date and 100% accurate. To achieve this, we use trusted sources to compile our reports. We also make our reports accessible and easy to comprehend, even for those without extensive automotive knowledge.
Additionally, our pricing is highly competitive, making our service the best CARFAX alternative for obtaining accurate vehicle history reports. For instance, while a Carfax report costs $39.99, ours is just $14.99!




Best times to buy and sell
How to Check a Vehicle Title in Rhode Island?
Our VIN check tool provides a unique opportunity to access a wide range of historical information about any vehicle in Rhode Island. In particular, you can use this tool to check the title information of any vehicle you're interested in.
To do so, simply review the title section of the vehicle history report provided by our Vehicle title checker. This will allow you to determine whether there are any red flags regarding the title, such as a salvage title, flood title, or other critical title brands that may make the vehicle a risky purchase.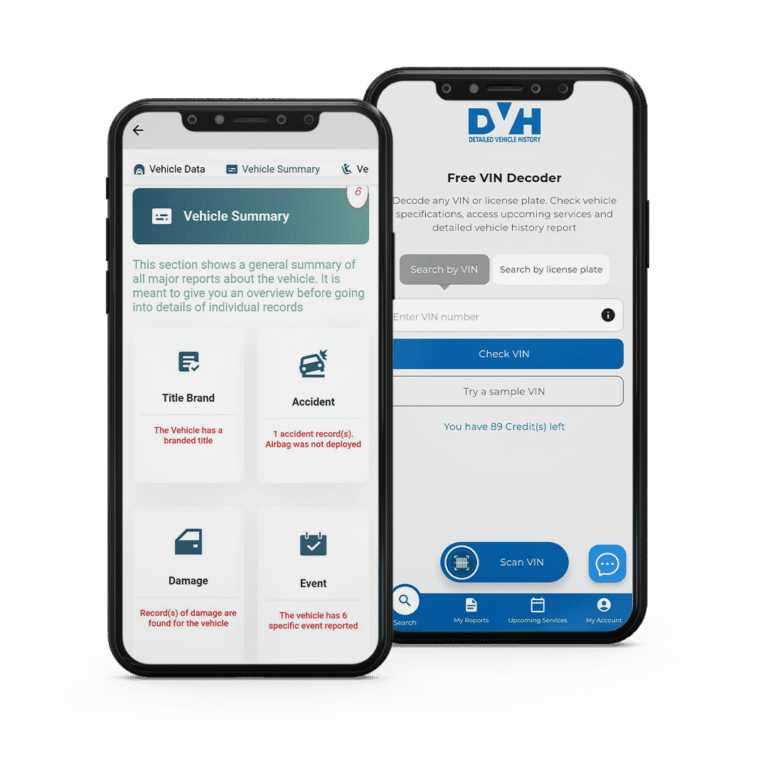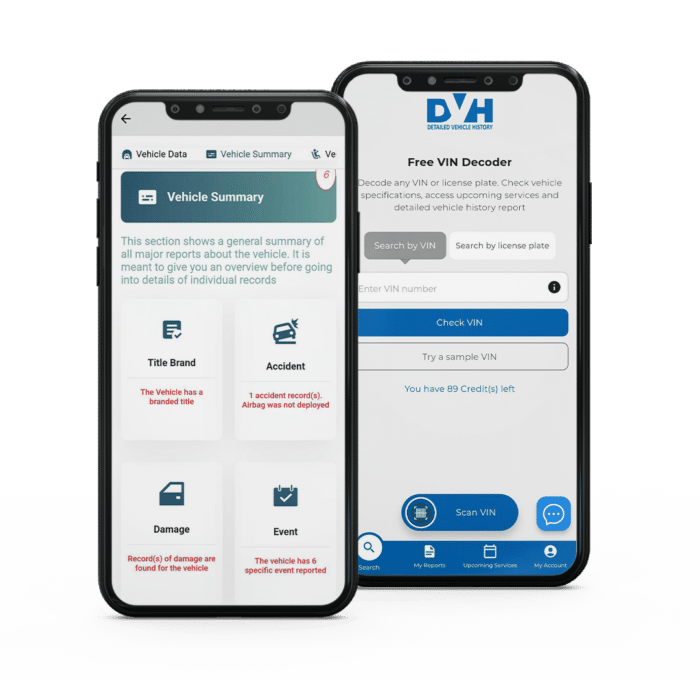 Download the VIN Decoder & Vehicle History App, run VIN checks, Auction Checks, Check upcoming maintenance for your vehicle free! anywhere any time.
Scan, decode VINs, (online and offline) and license plates to check vehicle specifications and access vehicle history reports instantly.
How Do I Check a VIN Number in Rhode Island?
To perform a VIN check in Rhode Island, follow these easy steps: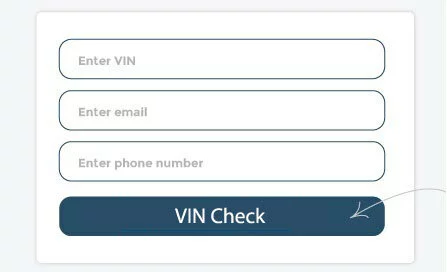 Visit detailedvehiclehistory.com: Go to the website and select "VIN Check" from the drop-down menu
Enter the required details: Enter the VIN number of the car you want to check.
Review the report: Once the report is generated, review it to see the detailed history of the car, including information on accidents, thefts, ownership history, and more.
VIN Lookup By License Plate In Rhode Island
You can obtain some information about a vehicle, such as its make, model, and year, by performing a license plate lookup. This service, also known as license plate lookup, can be helpful when you need to identify a vehicle or verify its ownership and history without the VIN handy.
The Rhode Island license plate lookup tool provides the same information as the VIN check tool; both tools have the capability to generate a detailed vehicle history report for all used vehicles in Rhode Island.
Other Resources for Rhode Island Car Owners and Drivers
Rhode Island has some of the most stringent laws in the country when it comes to used vehicle sales. The Rhode Island State Police inspect all used vehicles that are offered for sale at dealerships and other retailers. The inspection includes a comprehensive mechanical and safety check, including an emissions test.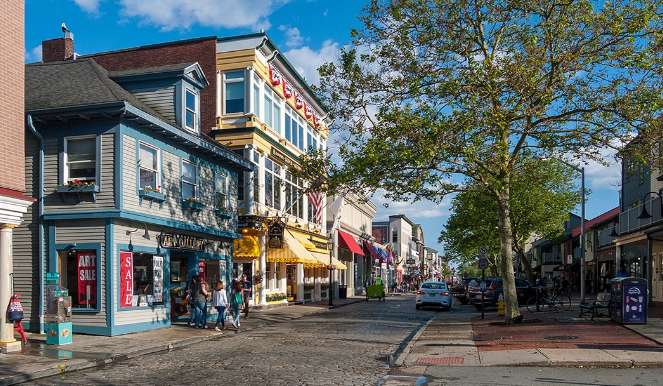 Dealers are also required to provide a written warranty, which must include at least a 7-day or 500-mile money-back guarantee. The warranty must also include coverage for major mechanical and electrical components.
In addition, all used vehicles must pass a Vehicle Identification Number inspection before they can be sold. This inspection is conducted by the Rhode Island Department of Motor Vehicles, and will reveal any major issues that the vehicle has had in the past.
Rhode Island law also requires dealers to disclose any major repairs or modifications that have been made to the vehicle, as well as any outstanding recalls that may apply to the vehicle.
To avoid the stress of visiting the DMV office in Rhode Island, you can use our powerful Rhode Island VIN check tool to obtain accurate and up-to-date history of a used vehicle.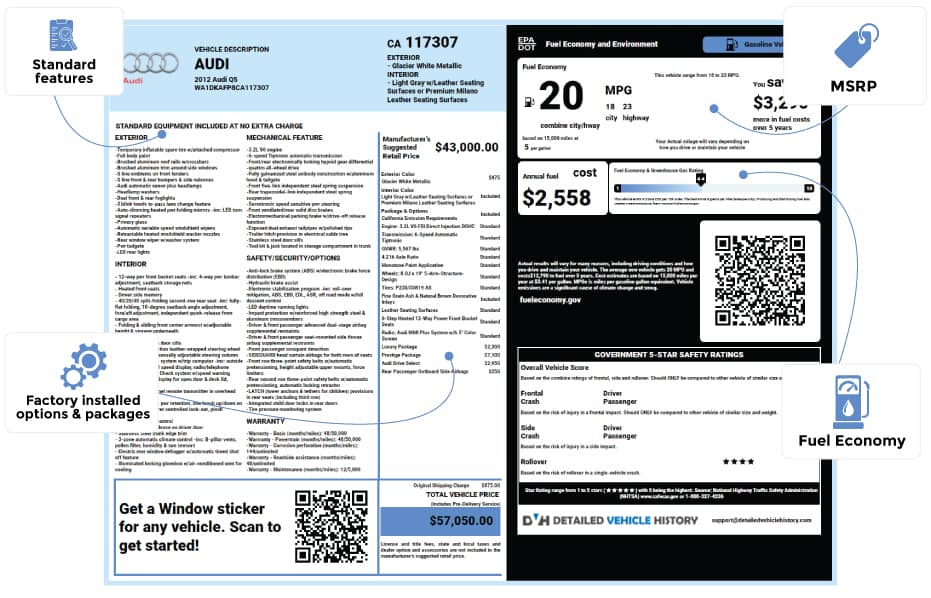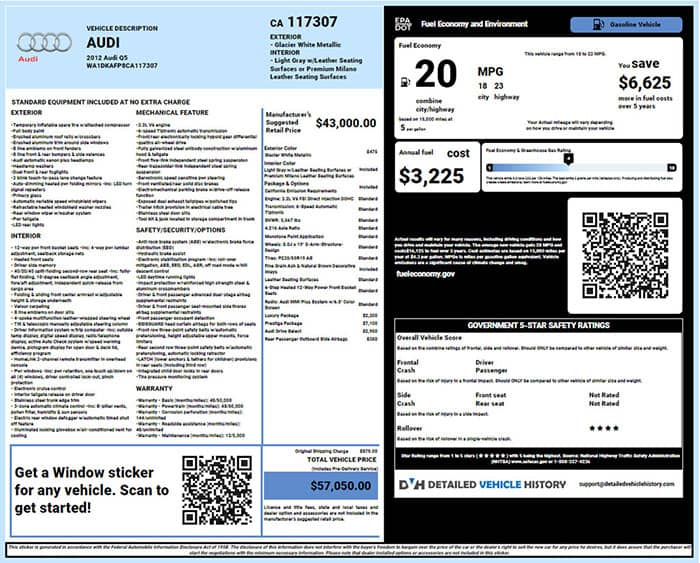 A window sticker is a piece of documentation usually affixed on a car's window that offers a glance exposition of the special features of a particular vehicle.
It usually sheds more light on MSRP, standard and optional equipment, additional packages, fuel economy rating, and more.
Frequently Asked Question (FAQs)
By performing a VIN lookup in Rhode Island, you can obtain a detailed vehicle history report, which includes information about the vehicle's previous owners, accidents, repairs, and other important details.
Yes. However, a free VIN check, or free VIN decoding will only provide you with a fraction of the whole vehicle history like the vehicle specifications, engine info and transmission. You will have to pay to get the complete vehicle history which will unravel the accident history, theft records, damage records and titles, mileage, recall information and many more. The VIN check service by Detailed Vehicle History is relatively affordable when compared with other service providers like CARFAX and AutoCheck
If you experience any issues during the VIN check process in Rhode Island on our site, you can contact our dedicated customer support team for quick assistance. You can also reach out to the Rhode Island Division of Motor Vehicles for further guidance if you are using their services.